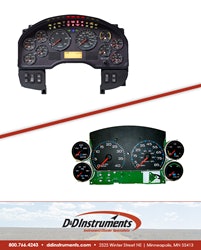 D&D Instruments (DDI) is has intoduced remanufactured instrument clusters for International Truck and IC Bus vehicles produced after 2002. This new program builds on an existing program for vehicles built between 1992 and 2004.
"We are very excited about this new program and the value it will bring to our current and future customers," says DDI General Manager, Geoff Selby. "The money saving proposition of a remanufacturing program is very attractive to private and public fleets, as well as dealerships and repair facilities."
A remanufactured instrument cluster provides cost savings of up to 50 percent over buying new, the company says.