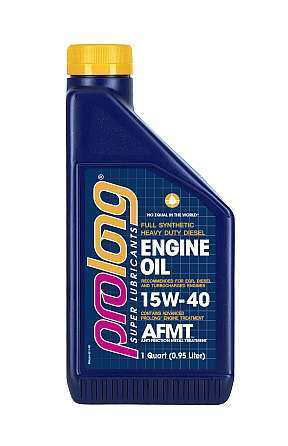 Prolong Super Lubricants has a new premium diesel engine oil featuring the company's proprietary Anti-Friction Metal Treatment (AFMT), which the company says bonds to metal surfaces and creates a protective layer that reduces friction, provides excellent wear protection and increases fuel efficiency.
Formulated with a blend of synthetic base oils and additives, Prolong's 15W-40 Diesel Motor Oil is designed to exceed API Service Classifications CJ-4/SN/SM.
Jon Apogée, general manager, Domestic Sales, Marketing and Motorsports, Prolong Super Lubricants, says the company's commercial and fleet customers requested a diesel motor oil that include the friction-fighting properties of AFMT.
"And this new 15W-40 diesel engine oil was developed to meet this demand and exceed consumer expectations and industry standards," he says.
Prolong's 15W-40 oil for diesel engines and commercial use is available in one-quart and one-gallon bottles, five-gallon pails and 55-gallon drums.