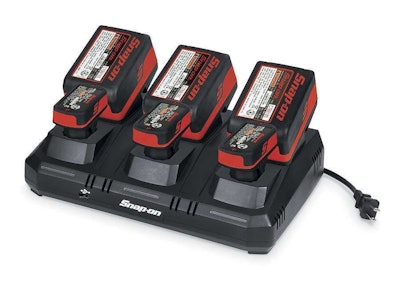 Snap-on says its CTC123 High-Current Charger is a one-charger solution for keeping spare batteries ready for use at a moment's notice.
"The technicians using our power tools are busy people working in bustling shops, and they sometimes need to switch out batteries very quickly to move from one rigorous project to another," says Rodger Isetts, product manager for Snap-on. "The CTC123 is an innovative solution to keep power close at hand, and that helps increase productivity and decreases downtime between jobs in the service bay."
Equipped to simultaneously charge three 18V batteries, three 14.4V batteries or three of any combination of the two, this shop must-have also features a 1A USB charger for small electronic devices and phones, Snap-on says.
"Snap-on is always thinking about ways to improve productivity for our customers. The innovation behind the CTC123 is a good example of how this translates directly into the bay. In addition to providing power, this unique charging station makes the work area safer because it allows technicians to avoid hazards associated with excessive power cords from multiple chargers," says Isetts.
The CTC123 is an industrial-grade charger featuring a high-flow fan and advanced battery pack protection offering 2.1A more power than some competitor's models. Battery types CTB8172 14.4V MicroLithium and CTB8185 18V MonsterLithium are ready-to-go within standard charging times of 55 minutes, Snap-on says.