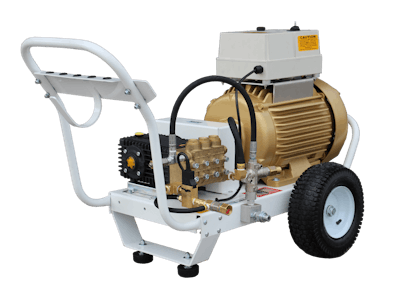 Water Cannon says its new 15M71 electrical power high-pressure indoor-safe water blaster is built for portable and around the clock applications.
The 15M71 features a 20 horsepower, 460-volt 3-phase heavy-duty motor with an auto start/stop feature that powers a TSP Series General Triplex Plunger Pump, and performs at 4.5GPM – 6000PSI using the long lasting Poly Chain Drive system. The machine comes standard with a high-pressure 50-ft. hose, gun-wand kit and 10,000 PSI Rated Safety Couplers.
Water Cannon says the auto-start/stop system allows for remote operation, and the premium inlet water filter and remotely plumbed bypass unloader system is mounted to the frame for durability and ease of operation.