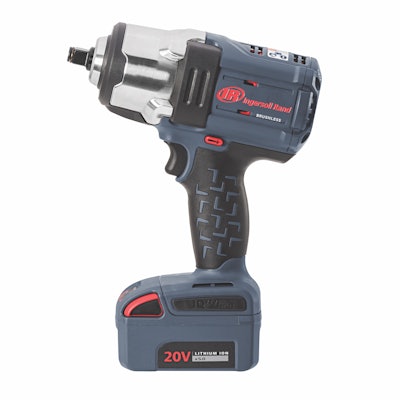 Ingersoll Rand introduces its IQV20 Series W7152 1/2 in. impact wrench.
The company says the new wrench is the most powerful cordless impact wrench in its class. It delivers 1,500 ft.-lb. of nut-busting torque and 1,000 ft.-lb. of max reverse torque. The W7152 is a compact 8.1 in. long from tip to tail and has a 360-degree shadowless task light to provide exceptional access and increased visibility in hard-to-reach spaces.
Ingersoll Rand adds the wrench features chemical-resistant composite housing and a patented steel-reinforced frame to withstand the harshest working conditions; an optimized internal mechanism to provide technicians with the power they need without adding extra weight to the tool; a 20-volt battery compatible with the Ingersoll Rand IQV20 Series battery system; and a shadowless LED task light that has four settings for high-, medium- and low-light environments as well as an off mode.
The W7152 is also available with a 2 in. extended anvil for use on tires or a pin anvil for applications with additional safety requirements such as railroads, municipalities or transit systems, the company says.