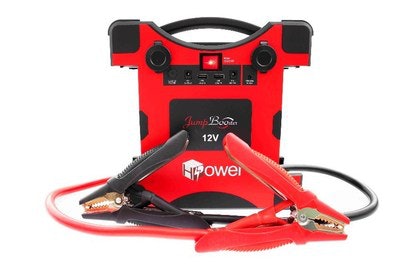 LithiumHub.com introduced Wednesday the 12-volt Jumpbooster JP30, a groundbreaking new jump starter battery designed specifically to jump start heavy-duty diesel trucks instantly.
Weighing only 11 lb., LithiumHub says the JP30 produces a full 3,000 peak cranking amps, more than enough to start any diesel truck engine up to 16 liters in displacement. It also can start a heavy-duty diesel truck with no lead acid batteries connected.
"The Jumpbooster JP30 is the most powerful, smallest, lightest and best value lithium-ion jumpstarter on the market that can instantly jumpstart your heavy-duty diesel equipment up to 16-liter," says Martin Koebler, president, LithiumHub.
LithiumHub says the product's secret is high-output lithium-ion batteries, which use microchip technology to keep from ever overheating, while at the same time delivering the massive power truckers need.
On top of the ample cranking power, the JP30 comes with a host of versatile and practical features, including two cigarette-lighter ports, two USB ports, an extra-bright LED flashlight and built-in smart cables, LithiumHub adds. When it isn't being used for firing up an engine, the JP30 also can be used to recharge a laptop, phone or tablet, and other electronic devices.
"I don't know of any shop anywhere that would want to be without one of these if their business is repairing trucks," says Barry Lovell, director of parts operations, McCandless Truck Center "There is no other product out there like the Jumpbooster JP30."
The company says the JP30 has a seven-year lifespan and provides instantaneous power on demand. Over its lifetime, it can provide up to 5,000 starts. Safety features include reverse polarity, low-voltage protection, short circuit overheat protection and over-discharge protection, the company adds.