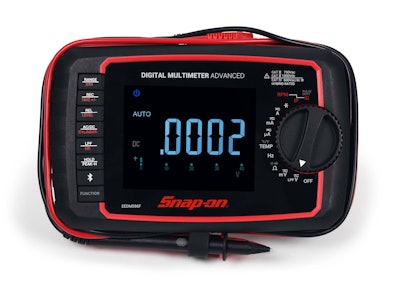 Snap-on has released a horizontally-oriented digital multimeter featuring a 4-in., full-color LCD screen, which is 115 percent larger than Snap-on predecessors, the company says.
The EEDM596FK multimeter includes two fuses, a 61-inch test lead set with clips, inductive pickup, a temperature probe and adaptor, carry case and USB-based multi-language user manual.
For jobs previously requiring multiple technicians, Snap-on says one tech can do the work because of the multimeter's app that captures, stores and shares readings via Bluetooth remote display on the tech's smartphone. Techs download the app, capture readings and can communicate with customers and other techs via text, email or social media.