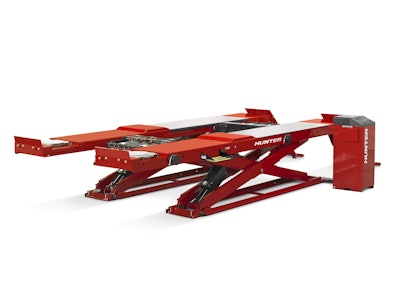 Hunter Engineering has released an optional harsh-duty variation for its standard RX scissor lift racks.
Hunter says the rack addresses the challenges of brine solutions that have become harmful to automobiles and automotive shop equipment in recent years.
The harsh-duty rack features stainless steel slip plate top surfaces and turnplates. A zinc-rich primer base coat and powder top coat covers lift runways, ramps and bases, providing two layers of protection.
The rack also features epoxy caulked joints that prevent salt seepage between adjoining pieces of metal, the company says.
"Today's brine solutions used on many roads are challenging automakers and equipment manufacturers, alike. These solutions are so aggressive that we decided to offer our customers additional options to keep their Hunter equipment in great condition for a long time to come," says Pete Liebetreu, Hunter marketing vice president.