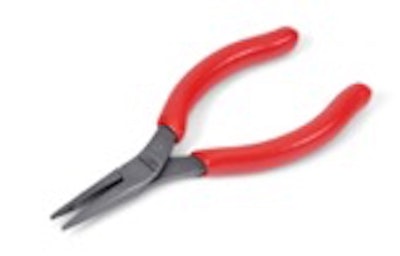 Snap-on recently released several new products: a cordless ratchet, flex light, needle-nose pliers and a heavy-duty fan.
The Snap-on CTRQ717DB 14.4 V Hex Drive Long Neck Cordless Ratchet has a low tapered head and 13-3/4 in. length to provide technicians with more reach and accessibility. The CTRQ717DB features a 35 ft.-lb. of torque, 46 ft.-lb. of manual torque load and a variable trigger speed. It also features a battery gauge, LED headlight and cushion grip, Snap-on says.
Snap-on's ECARD062 Dual Sided Flex Light includes a 270° folding design with magnets on the bottom and back for visibility in any space, the company says. The ECARD062 includes a 300 lumen spotlight, 600 lumens on each side and 800 lumens when both are activated. The main light includes a dimmable memory function switch that takes only a press and hold to activate. The ECARD062 is IP65 resistant to water and dust infiltration and has an onboard battery fuel gauge, the company says.
The Snap-on 94CF Talon Grip 5-in. Plastisol Grip Needle Nose Pliers provide up to a 57 percent increase in pulling power with a relocated joint, optimized handle shape and diamond serrated jaws, the company says. With the rounded jaw edges, technicians can make loops and bends without fear of cutting wires. The jaw tips are aligned and feature machined teeth for accurate gripping strength and control. The tool's contoured handle offers a more comfortable grip and superior leverage, Snap-on says.
Snap-on's CTFAN9050 18 V Heavy-Duty Fan can plug-in or go cordless. A three-speed motor is DC, 18–24 V and 22 W and comes with a dual power source 18 V battery or 110 V AC charging port. The battery will last 12 hours on the low setting, five hours on medium and three hours on high with air speed ranging from 1,500 RPM on the low setting, 2,500 RPM on medium and 3,000 RPM on high. The indexable fan includes three 6-1/2 in. propeller-style blades to create maximum air flow; two integrated 2.1 A USB ports; oversized carrying handle; and a large control panel.