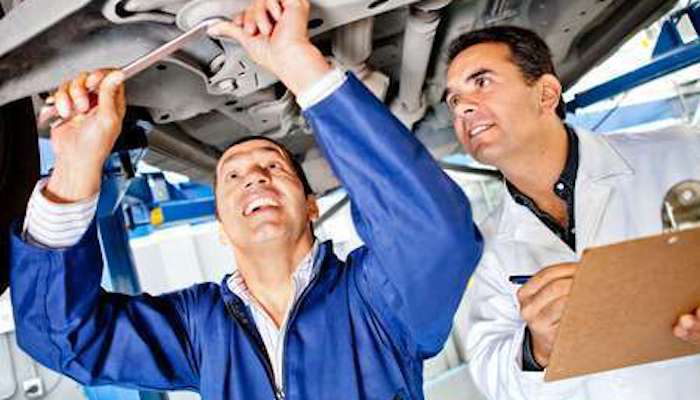 Premier Truck Group and Universal Technical Institute have announced the Premier Truck Group Technician Skills Program, a first-of-its-kind diesel-commercial vehicle technician career skills program for service members at Fort Bliss, a U.S. Army post in El Paso, Texas, according to an announcement.
The 12-week program will provide hands-on, industry-aligned technician training designed to lead to rewarding career opportunities for veterans transitioning from military service to civilian life. Premier Truck Group is a subsidiary of Penske Automotive Group.
"For more than 20 years, Universal Technical Institute has partnered with Penske Automotive Group to train skilled technicians in the transportation industry. Now, we're proud to bring this same, state-of-the-industry education directly to Fort Bliss for service members to train for rewarding careers as diesel-commercial vehicle technicians as they transition out of the military," says UTI CEO Jerome Grant.
"This exciting new program is an example of our innovation with industry to solve workforce shortages and build talent pipelines, and of our deep and longstanding commitment to serving our nation's heroes. We thank Fort Bliss for welcoming our collaborative career skills program and Premier Truck Group for its continued partnership," Grant says.
The diesel-commercial vehicle technician career skills program will be offered tuition-free to participating service members and feature a specialized on-base curriculum with hands-on technical training in a workshop setting, modified to meet CDC and health authority COVID-19 prevention guidelines.
Students will receive training on diagnostic paths and service technologies unique to the Premier Truck Group and graduates will earn a Systems Certified Daimler Truck North America credential and will be offered immediate employment.
"Veterans have what it takes to be outstanding employees, including a strong, goal-oriented work ethic, ability to work as a team and — in many cases — expertise working with sophisticated equipment," says Premier Truck Group President Rich Shearing. "We're proud to partner with UTI and the U.S. Army at Ft. Bliss as we provide service members with excellent career opportunities and help them transition to civilian life."
The Fort Bliss program is anticipated to train and graduate into employment 36-48 veterans each year.
Service members interested in applying or learning more may email premiertruckbliss@uti.edu or call 915-471-6351. Classes begin Jan. 11, 2021.