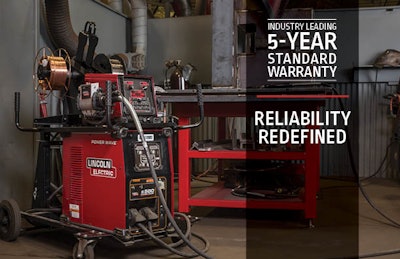 Lincoln Electric announced all Advanced Welding Equipment will now come standard with a 5-year factory limited warranty.
As an expansion to the current 3-year limited warranty, the new 5-year program offers customers an additional 2 years of peace-of-mind, providing no out-of-pocket cost for covered repairs, including parts and labor for the warranty period, the company says.
"For nearly 30 years, the innovation and technology in our Advanced Welding Equipment has helped customers improve productivity and quality in their welding operations," says Bruce Chantry, director of advanced technology.
"We understand that productivity and quality are crucial to their operations, but so is having equipment they can count on day in and day out. That's why, through a multi-year effort with our engineering and manufacturing teams, Lincoln Electric now has the ability to offer customers extended peace-of-mind, providing them the benefit of the most advanced welding solutions, now backed by the most extensive 5-year warranty in the industry," says.
·     Advanced welding equipment covered under the new 5-year limited warranty includes: 
·      Power Wave Advanced Process Welders
·      PIPEFAB Welding Systems
·      AutoDrive Robotic Wire Feeders
·      Power Feed Advanced Wire Feeders
·      APEX Mechanized Controllers
·      MAXsa Submerged Arc Controllers and Wire Feeders