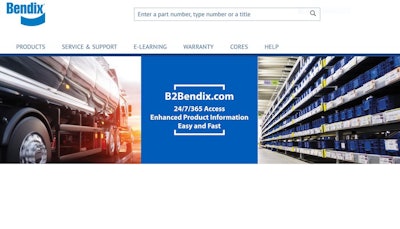 Bendix Commercial Vehicle Systems has launched a new, fully updated e-commerce platform designed to deliver streamlined product searches, accelerated ordering, online warranty and core services, and the opportunity to readily verify genuine parts for its customer base.
Designed with customer feedback and suggestions, Bendix launched the new site on Jan. 19. The company says new site replaces its Bendix.biz webshop, and will serve as the North American e-commerce platform for Bendix.
B2Bendix.com adds is one of three regional storefronts launched as part of a coordinated global initiative by Bendix's Munich, Germany-based parent company, Knorr-Bremse.
"Customers asked us for more options when it came to our online e-commerce capabilities, and our new e-commerce platform is a direct response to those requests," says Marylou Hornung, director of sales operations, Bendix. "The B2Bendix.com platform is simple to navigate and offers a host of new features, including fast and easy product searches and technical attribute details. Overall, this resource makes Bendix easier to do business with by helping customers get many of their questions answered quickly and accurately."
More than a year in the making, Bendix says the new site is aimed at the North American commercial vehicle marketplace. The company says the site features high-resolution, 360-degree views of more than 9,000 Bendix products, kits, and related service items.
Other key features of the new platform include more robust product search capabilities; online access to enriched product information; the ability to determine warranty eligibility; addressing core returns in a quick and accurate manner; and, for authorized Bendix distributors, the ability to view emergency-order parts availability and order products quickly.
Designed to be user-friendly and easy to navigate, B2Bendix.com also offers additional features in the main menu, including Service & Support, E-Learning, Warranty, Cores, and a Help function. In addition, Bendix says the site now includes a convenient Diagnostic Trouble Code (DTC) search tool to look up DTCs for select Bendix Electronic Control Units (ECUs) by including their component, DTC type, and code.
And under the Service & Support section of the site, users with technical questions are provided with multiple phone and email options to contact the Bendix Technical Team. Users can access training resources through the E-Learning section of the site, which links to two key existing Bendix training resources: Brake-School.com and Knowledge-Dock.com.
"We're driven to create the best solutions," says Hornung. "For our distributors, B2Bendix.com is a one-stop-shop for all things Bendix, helping our customers have access to all of the information they need, 24-7-365. In providing this system, we hope we're giving customers a reason to visit our site, use it, and stay a while."