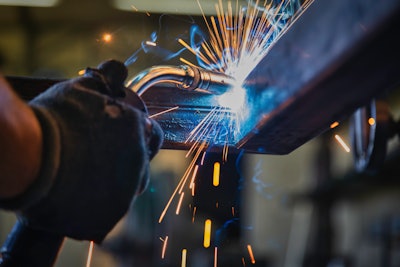 Whiting Systems has opened a 12,500 sq.-ft. welding facility. The company says this state-of-the-art facility will also have 5,000 sq.-ft. of dry material storage.
Whiting Systems says its new welding facility is located on the corporate campus in Bryant, Ark., and allows for manufacturing process to be speedy for customers.
"We have upgraded all electrical and natural gas supply to the campus enabling continued growth for the company" says senior vice president, Dave Speer.
Whiting says its new welding shop boast a new 20 ft. by 10 ft. CNC controlled automation plas max cutting unit. This unit features high-definition cutting using Hypertherm True Hole Process, capable of cutting critically accurate parts up to 4 in. thick. Whiting Systems also added environmentally controlled office space to secure the safety and long service life of the complex computer systems required to operate this equipment, the company says.
"We are proud of this addition to our campus, not only for our great employees but for our partners as well," says Whiting Systems President Russ Whiting. "In a welding shop as large and productive as ours, welding fumes or smoke are monitored so they don't become a health concern. Employee health and safety was our first and main concern when we started to design and build the new welding facility. We installed a healthy air purification system into the building, and it is being controlled and monitored by a PLC "(programable logic controller) via smoke detection sensors."
Whiting adds, "each welding station has a powered air purifying respiratory system built into the welder's helmet. This always allows the welder pure and cool air. We want to offer the best working environment for our employees so they can do their jobs to the best of their abilities. This results in a superior product in the marketplace for our transportation partners."