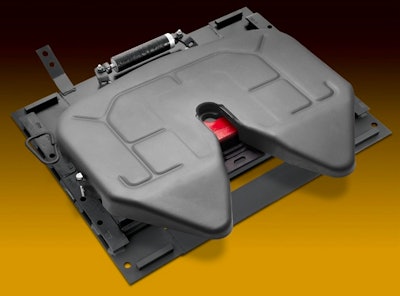 Fontaine announced Thursday that Kenworth Truck Company has added four popular Fontaine No-Slack fifth wheels to its PremierSpec sales tool, making it easy to order Kenworth tractors equipped with Fontaine No-Slack fifth wheels.
"The Kenworth brand is highly respected in the trucking industry, and Fontaine is honored to be included in their PremierSpec dealer sales tool," says Buck Buchanan, president, Fontaine Fifth Wheel. "Now Kenworth customers have easy access to the Fontaine No-Slack 6NWB, the lightest steel sliding fifth wheel in the industry."
The Fontaine 6NWB features the light-weight 6000 No-Slack top plate mounted to the light-weight Fontaine NWB slide assembly. The net result is a very attractively priced fifth wheel that is 22 to 85 lb., lighter than the competition, Fontaine says. Plus, the company says customers get the added benefit of running with Fontaine No-Slack lock technology. The exclusive No-Slack design automatically self-adjusts the lock to allow for trailer kingpin size variances.
Additionally, Fontaine says the precise No-Slack kingpin fit reduces shock inputs into the frame for a smoother ride, lower maintenance costs and longer component life.
Presently, four of the most popular Fontaine fifth wheels are listed in Kenworth PremierSpec, however, other models are also available, the company says.