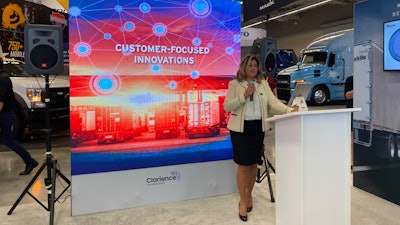 Clarience Technologies on Tuesday at ATA's Technology & Maintenance Council (TMC) Fall Meeting in Cleveland introduced a company-wide initiative to develop more energy-efficient lighting solutions to extend the range of electric vehicles (EVs).
Known as A2Z for e-Mobility (A2Z is short for "Amps to Zero"), the new initiative brings EV-optimized LED lighting solutions for trucks, trailers and truck bodies sold under the Truck-Lite brand, though the company expects this initiative will result in a broader set of energy-efficient solutions extending beyond LED lighting that will benefit its entire family of companies.
"We expect commercial fleets to seek every opportunity possible to extend the range of EVs," says Paul Sniegocki, Clarience Technologies executive vice president and chief technology officer. "A2Z for e-Mobility represents how we are delivering more efficient solutions by applying modern-day technologies to help extend vehicle range."
Clarience says its decision to support the initiative was motivated by the changing landscapes in the commercial vehicle space. Sniegocki notes that although the first electric-powered commercial trucks arriving in the market are expected to have an average range around 250-300 miles per charge, the degree to which outside factors will impact range remains uncertain. With EVs, many factors reduce battery range, including temperature, cargo weight, or the power draw required by the vehicle body or trailer.
Sniegocki says A2Z for e-Mobility was designed to reduce parasitic loads that draw power from an electric vehicle battery. He says its engineers were challenged to find new ways to reduce amp draw from electric lighting systems.
"The central premise of A2Z is to conserve energy in the vehicle's battery and help the vehicle propel itself forward," he says.
Additionally, during development of its initiative Sniegocki says the Clarience team realized more energy-efficient LED lights could not result in any tradeoffs; there could be no degradation in product performance, including both lumen output and design quality. Through advanced power management strategies company engineers developed improved lighting electronics that reduced energy waste, while optics engineers looked at ways to improve photometric performance though reflector design and lens optics. In the end, A2Z for e-Mobility has already led to new designs that deliver a 50 percent or greater reduction in current amp draw.
And efficiency opportunities coming from A2Z for e-Mobility also have been introduced first at Truck-Lite, who is now offering a series of more energy-efficient trailer and step van body lighting packages optimized for EVs. Clarience says each A2Z-optimized lighting packages being offered by Truck-Lite will feature the legendary Super 44 4 in., round LED light known by its signature "pentastar" light pattern. Lamps are redesigned for multi-volt systems and feature 10-60VDC input, which provides trailer manufacturers and walk-in van upfitters application flexibility. These lighting packages will deliver a current draw reduction of 50 percent or greater without sacrificing performance, the company says.
And though A2Z for e-Mobility is already delivering results, Clarience Technologies sees this initiative as only in its infancy as its engineers continue exploring further efficiency opportunities. Clarience says it is now looking at ways to optimize overall trailer, body and truck loads, including how the components can best be optimized with other electric components as well as the wiring harness connecting them. Sniegocki says they are also using their expertise in connected technologies to develop "smart" lighting solutions designed to integrate better with trailer, body or truck OEMs.
[RELATED: Drōv Technologies debuts comprehensive smart trailer solution]
"We are looking for ways to optimize the entire electrical and lighting system," he says. "With electrification coming to virtually every form of transportation, innovations that result from the A2Z initiative stand to benefit customers served by the entire Clarience Technologies family of companies."
Road Ready debuts LogIQ
Clarience Technologies company Road Ready also released the groundbreaking integrated data platform, LogIQ Tuesday at TMC. Road Ready says the new LogIQ platform integrates data from a broad network of industry partners with its own trailer telematics system, making it easier for commercial fleets to obtain insights from data generated by trailers and other fleet equipment.
"Commercial carriers cannot easily analyze data trends when they receive data through multiple feeds and portals," says Nada Jiddou, Clarience Technologies executive vice president and Road Ready general manager. "We developed LogIQ to streamline delivery of data and make it easier for fleets to obtain actionable insights that improve their operating efficiency."
Jiddou says the introduction of the LogIQ integrated data platform gives users complete access through its FleetViz fleet management portal, a single interface providing detailed data from at-a-glance widgets. The dashboard delivers a closer look at which assets have active alerts and need attention. With dynamic reports and insights, fleet managers can analyze data to reduce costs, optimize fleet assets and increase supply chain visibility.
Additionally, the strength of the LogIQ integrated data platform comes from its premier partners, all of which are leading brands serving commercial transportation. LogIQ's trailblazing technology, unlike anything in trailer telematics today, acts as a universal language decoder, enabling data generated by smart trailer components from LogIQ partners to talk to one another. Jiddou says this enhanced trailer connectivity facilitates the aggregation of third-party data feeds, driving smart decision making.
LogIQ premier partners offer the following integrations with Road Ready:
Right Weigh, Inc.

– Right Weigh's onboard load scale for air and spring suspension trailers measure on-the-ground axle group weight, saving fleets money on commercial scale fees, out-of-route mileage and overweight fines.

P.S.I.

–P.S.I.'s automatic tire inflation system (ATIS) and its TireVew tire pressure monitoring system (TPMS) which provides tire pressure and temperature in real time, and its suite of optional sensors provide other critical vehicle health data such as wheel bearing temperatures and air tank pressures.

Hendrickson –

Hendrickson WATCHMAN tire pressure monitoring system (TPMS) and wheel-end health sensors help fleet operations maximize uptime by giving real-time visibility to potential wheel end and tire issues so that they can be resolved early and efficiently.

Continental

– Continental ContiConnect sensors monitor tire inflation and temperature enabling fleets to identify potential issues and schedule preventative maintenance, avoiding unexpected downtime.

ConMet Digital

– ConMet Digital Preset Plus SmartHub is the first connected health monitoring system integrated into hub assembly, generating actionable intelligence to optimize wheel-end health.

SKF

– SKF Wheel End Monitor communicates wheel end temperature and bearing conditions and alerts fleets of potential bearing failures before they occur.

SAF Holland –

SAF Tire Pilot Plus (TPP) with Real Time Sensing give customers the ability to monitor trailer tire pressures while on the road or when uncoupled and sitting idle.

Stemco –

TracBat Hubodometer helps fleets schedule maintenance, determine lease charges, validate guarantees and calculate costs per mile and can be programmed by the STEMCO Programmer to meet the customer's specific tire revolutions requirements.

Hyundai Translead

– Road Ready welcomes its newest LogIQ partner, Hyundai Translead, who now offers HT LinkSense to empower end-to-end trailer operation visibility and maximize fleet operational efficiency. Supported sensors include cargo volume, weight, door, air disc brake pad wear, smart brake chamber, light out detection, wheel end temperature and tire pressure monitoring.