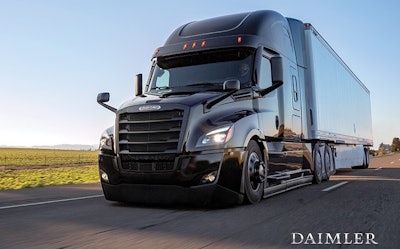 Daimler Truck North America (DTNA) will hold its first-ever Supplier Diversity Day in order to attract a greater number of diverse suppliers and continue to expand its supply base of critical parts.
The company is accepting online applications through March 31 for the June 14-15 event, and qualifying Tier 1 and Tier 2 vendors will be able to participate virtually or in-person at the company's Portland headquarters.
"As the leading North American manufacturer of Class 6-8 commercial vehicles, Daimler Truck NA is in a unique position to provide an equitable playing field to suppliers and to uphold values we hold dear, including the fact that we are stronger when more perspectives are represented," says Jeff Allen, senior vice president of operations and specialty vehicles at DTNA. "We look forward to meeting qualifying suppliers interested in doing business with our company and continuing to imbue our organization with the unique perspective those suppliers bring to the industry."

DTNA says participation requirements for the event include:
Suppliers with revenue of over $750,000 must be certified by a federal, state or local agency as either a minority business enterprise (MBE), woman business enterprise (WBE) or veteran-owned enterprise (VBE).
MBEs, WBEs and VBEs with less than $750,000 may self-certify.
Suppliers must have environmental certification ISO-14001.
Suppliers must have acceptable quality certification ISO 9001 or TS 16949.
Suppliers must be based in North America.
Suppliers must be prepared to produce quality parts at competitive costs and be able to deliver on time per contracted volumes.
For those suppliers participating in-person, DTNA says its event will include presentations from the company's procurement and supply chain management team, presentation and networking opportunities with one of the company's largest customers, a leading leasing transportation and logistics provider, and a tour of the company's Portland Truck Manufacturing Plant. Those companies attending virtually also will be able to participate in many of the same activities. All participating suppliers are expected to present their company's product line, describe manufacturing volume capability and, if selected, respond to request for proposals within a reasonable time, DTNA says.
[RELATED: Crash risk sidelines 69K Daimler trucks]
"There are multiple lessons to be learned from the events of the past several years, the first of which is that a diversified supply chain is absolutely vital for navigating a challenging production environment," says Carsten Kirchholtes, general manager of procurement and supply chain at DTNA. "The second lesson is that those who are in a position to lead on issues of equity and equality have the obligation to do so. Our company is in such a position, and we are both prepared and honored to lead the way for our industry."
More information regarding the DTNA Supplier Diversity Day and instructions to apply can be found at dtnasupplierdiversityday.com.