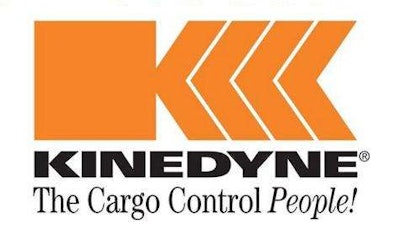 Kinedyne is celebrating its 55th anniversary of providing superior quality products to the commercial vehicle, military and government, and other industries around the world this year.
Established in 1968, Kinedyne has been committed to developing solutions that ensure the safe and secure transportation of goods. Over the past 55 years, Kinedyne has become a trusted partner for private fleets, trucking companies, OEMs, retailers, and owners/operators, as well as military, government, and aerospace entities along with a network of distributors and dealers across the globe, the company says.
Kinedyne evolved from a single facility in New Jersey to an international organization with employees and affiliates in the U.S., Canada, and Mexico. As Kinedyne continued to expand and product lines evolved to meet new market demands, Kinedyne says it knew that only with better cargo securement, greater cargo capacity, and faster cargo access technologies could they make the increasingly complex shipping environment easier for the industry.
This foresight, along with a team of specialized, innovative engineers, and their relentless dedication to manufacturing the finest quality of products, allowed Kinedyne solutions to advance the cargo securement industry, the company says.
"Kinedyne is proud to be called, The Cargo Control People!, and we are thrilled to celebrate this milestone anniversary," says Dan Schlotterbeck, president of Kinedyne LLC. "Our successes over the past 55 years are a testament to the hard work and dedication of our entire team, present and past, as well as our commitment to providing innovative, quality products, and exceptional customer service. Kinedyne Mexico also celebrated their 28th anniversary earlier this year, highlighting our global ability to delight our customers by delivering high-quality solutions throughout the world."
As Kinedyne looks to the future, the company states it remains committed to innovation and meeting the evolving needs of the industry.
"I look forward to how Kinedyne will shape the future of the many industries we serve, and I know the best is yet to come as we continue to find new, innovative ways to keep people safe by keeping cargo secure," says Schlotterbeck.