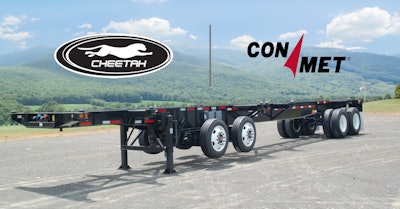 ConMet announced Tuesday its PreSet Plus hub assemblies have been selected as the standard choice for Cheetah Chassis, a manufacturer of custom container chassis and specialized flatbed trailers.
Cheetah Chassis, based in Berwick, Pa., is renowned for its sophisticated manufacturing processes that yield durable, lightweight container chassis built to stand the test of time. The addition of PreSet Plus wheel ends underscores their commitment to excellence and reliability, the company says.
"At Cheetah Chassis, we prioritize proven solutions that contribute to the overall success of our customers' operations," says James Boucher, materials manager at Cheetah Chassis. "When specifying supplier components, we follow our best-in-class requirements, including quality, ease of installation, warranty, future maintenance, and safety. And by choosing PreSet Plus, we're equipping our trailers with the most advanced wheel end technology that offers enhanced efficiency and reduced maintenance."
PreSet Plus hub assemblies are the most advanced wheel hub in the industry, ConMet says, featuring specially designed components, including the seal, pre-adjusted bearings, wheel studs, spindle nut, and ABS tone ring, to ensure optimum safety and reliability. ConMet's specially designed spacer provides a fixed, dimensional distance between the inner and outer bearings so that precise adjustment can be achieved when torquing the spindle nut.
ConMet adds a fill hole allows for quick and easy lubrication, while a standard magnetic fill plug helps with inspection of lubricant. A patented, integrated spindle nut system significantly improves wheel end clamp load while making installation easier, aiding in the removal of the hub for service, and providing improved safety, the company adds.