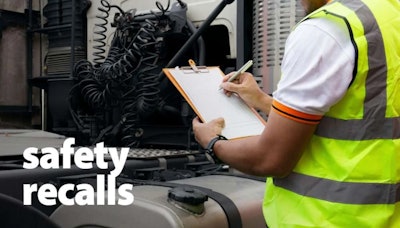 The following safety recalls were issued Monday by the National Highway Traffic Safety Administration (NHTSA):
Daimler Trucks North America is recalling certain 2019-2022 Freightliner Cascadia P4, 2021 Western Star WH126, 2020 Western Star WJ121, and 2021-2022 Western Star 49X vehicles. The battery cable terminal may break, resulting in a loss of electrical power and unintended engine stall. An engine stall increases the risk of a crash. NHTSA says potentially 122,056 vehicles are affected by the recall.
Spartan Fire is recalling certain 2019-2021 S180 Pumper emergency vehicles. The pump shift harness may have incorrect terminals, which could result in a poor electrical connection. A poor connection at the terminals may cause the vehicle to not shift into pump mode, hindering fire fighting efforts and increasing the risk of injury. NHTSA says potentially 62 vehicles are affected by the recall.
SVI Trucks is recalling certain 2017-2021 Rescue Truck vehicles. The sealing washer may not seat correctly in the pilot bore holes, allowing the high pressure fuel rail assembly to leak. A fuel leak in the presence of an ignition source increases the risk of a fire. NHTSA says potentially 60 vehicles are affected by the recall.