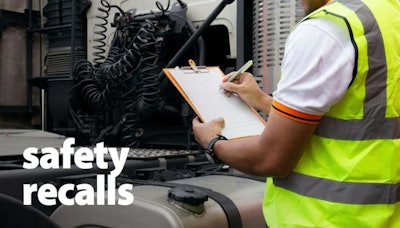 The following safety recalls were issued Monday by the National Highway Traffic Safety Administration (NHTSA):
Daimler Truck North America (DTNA) is recalling certain 2022 Thomas Built Buses Minotour school buses. Adhesive may not have been properly applied between the lower interior side panel and the seat rail, resulting in insufficient joint strength. As such, these vehicles fail to comply with the requirements of Federal Motor Vehicle Safety Standard number 221, "School Bus Body Joint Strength." A school bus cabin with insufficient joint strength increases the risk of injury in a crash. NHTSA says potentially 846 vehicles are affected by the recall.
DTNA is recalling certain 2016-2021 Thomas Built Buses Saf-T-Liner HDX transit buses equipped with an ISL or L9 engine. The power steering hose may be routed with inadequate clearance between the hose and the power cables, potentially damaging the power steering hose. A damaged power steering hose can leak, and increase the risk of a fire. NHTSA says potentially 114 vehicles are affected by the recall.
Reitnouer is recalling certain 2017-2019 Steer Axle trailers equipped with Dexter Ingersoll Smart-Steer self-steer axles. The steering arm may detach from the steering knuckle during certain low-speed, high-side loading maneuvers. A detached steering arm may cause a loss of steering control. In addition, attachment hardware may fall and become a road hazard. Both of these scenarios can increase the risk of a crash. NHTSA says potentially 264 vehicles are affected by the recall.