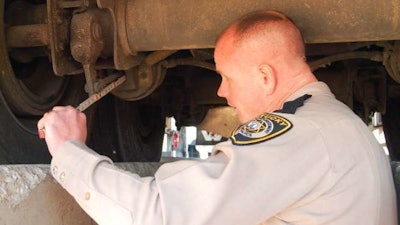 Nearly 1,300 commercial motor vehicles were removed from service with brake-related critical vehicle inspection item violations during an unannounced Brake Safety Day inspection blitz in April, the Commercial Vehicle Safety Alliance (CVSA) announced Wednesday – 14.1 percent of the 9,132 commercial motor vehicles inspected April 27 across 46 jurisdictions in Canada and the U.S.
The vast majority of inspections (8,750) took place in the U.S., resulting in 1,228 violations. In addition, inspectors compiled and reported brake hose/tubing violation statistics, which was the focus area for this year's Brake Safety Day. There were 1,534 brake hose/tubing violations.
CVSA's Brake Safety Week will be held Aug. 21-27, and the emphasis of that campaign is brake hose/tubing chafing violations.
For more details of April's blitz, please see the CVSA website.