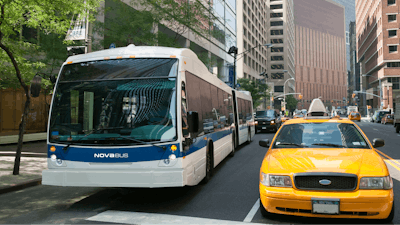 The National Highway Traffic Safety Administration on Monday announced a consent order with Volvo Group North America due to discrepancies in a past recall claim. The total civil penalty for the order could reach $130 million, one of the largest-ever penalties for violations of the Vehicle Safety Act, NHTSA says.
NHTSA says action follows an investigation that found Volvo Group failed to recall vehicles in a timely fashion and to comply with other recall and reporting requirements, including notifying owners of recalls and reporting death and injury incidents.
The consent order includes both monetary and non-monetary provisions designed to improve Volvo Group North America's compliance with the law and the company's safety practices.
[RELATED: Isuzu recall also impacts Chevrolet, Hino vehicles]
Addressing the consent order, NHTSA Acting Administrator Ann Carlson says NHTSA "will use the full scope of our authorities to protect the public from safety defects and from manufacturers that create potential safety problems by failing to comply with the law."
In announcing the consent order Monday, NHTSA states Volvo Group North America has agreed to oversight by an independent third-party auditor, as well as to meet regularly with NHTSA to ensure that it addresses any potential safety issues. The auditor will review Volvo Group North America's processes to assess compliance with the Vehicle Safety Act, regulations, and the consent order, and recommend and oversee implementation of organizational and process improvements to enhance Federal Motor Vehicle Safety Standards compliance and certification. The auditor also will oversee a review of past submissions to NHTSA for accuracy and completeness, NHTSA says.
"Safety is of paramount importance to the Volvo Group," the company said in a statement to TPS. "We appreciate the opportunity to summarily resolve this matter, and we look forward to continuing our close work with NHTSA to identify and close any compliance gaps. Wide-ranging improvements in our North American safety processes and systems are already underway, and we're dedicated to having a best-in-class safety organization moving forward."
As part of the order, Volvo Group North America will develop and implement a safety data analytics infrastructure to enhance its ability to detect and investigate potential safety defects. The company also will develop written procedures and training for its employees on compliance with the Vehicle Safety Act, regulations, and the consent order, as well as a training schedule to ensure that its employees are onboarded and trained appropriately.
Finally, NHTSA says Volvo Group North America will launch a user interface on its websites to enable users to search vehicle identification numbers for open recalls and implement a system to support NHTSA's VIN lookup tool.
The term of this consent order with NHTSA is three years, which NHTSA may extend for up to two additional years if warranted. NHTSA says the consent order requires the company to make an upfront payment of $65 million and spend an additional $20 million on the specific performance obligation to create a safety data analytics infrastructure, and includes an additional $45 million deferred penalty that may become payable under specified circumstances.