This article was updated Saturday, April 29 at 5:30 p.m. with comment from the California Trucking Association.
The California Air Resources Board Friday voted unanimously to finalize its Advanced Clean Fleets (ACF) rule, a sweeping set of regulations that requires all new medium- and heavy-duty vehicles sold or registered in the state to be zero-emission by 2036 and requires all trucks to be zero-emission by 2042.
CARB estimates that, of the 1.8 million medium- and heavy-duty vehicles operating daily in California, 532,000 will be subject to ACF fleet requirements.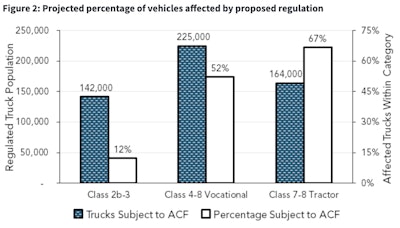 The regulation has heavy implications for motor carriers in the state, as it bars truck manufacturers from selling any combustion-engine trucks in the state by 2036. The 100% ZEV manufacture sales requirement was moved up to 2036 from the original 2040 start date.
[Related: Senate votes to roll back EPA emissions standard on heavy trucks]
The regulation applies to fleets performing drayage operations, those owned by state, local, and federal government agencies and "high priority fleets." High priority fleets are defined as entities that own, operate or direct at least one vehicle in California, and that have either $50 million or more in gross annual revenues, or that own, operate, or have common ownership or control of a total of 50 or more vehicles (excluding light-duty package delivery vehicles). The regulation affects medium- and heavy-duty on-road vehicles with a gross vehicle weight rating greater than 8,500 pounds, off-road yard tractors and light-duty mail and package delivery vehicles.
Drayage fleets
Beginning Jan. 1, 2024, trucks must be registered in the CARB Online System to conduct drayage activities in California. Non-zero-emission "legacy" drayage trucks may register in the CARB Online System through Dec. 31, 2023. Legacy drayage trucks can continue to operate through their minimum useful life, however, effective Jan. 1, 2024, only zero-emission drayage trucks may register in the CARB Online System. All drayage trucks entering seaports and intermodal railyards would be required to be zero-emission by 2035.
High priority and federal fleets
High priority and federal fleets must comply with the Model Year Schedule or may elect to use the optional ZEV Milestones Option to phase-in ZEVs into their fleets:
Model Year Schedule: Fleets must purchase only ZEVs beginning in 2024 and, starting Jan. 1, 2025, must remove internal combustion engine vehicles at the end of their useful life as specified in the regulation.
ZEV Milestones Option (Optional): Instead of the Model Year Schedule, fleets may elect to meet ZEV targets as a percentage of the total fleet starting with vehicle types that are most suitable for electrification.
Drayage and high priority fleets can continue using existing trucks until the earlier of 18 years or 800,000 miles, or a minimum of 13 years if the truck has over 800,000 miles, meaning affected fleets may keep existing combustion-powered vehicles for its full useful life.
American Trucking Associations President and CEO Chris Spear said CARB's adoption of its Advanced Clean Fleets regulation forces motor carriers to purchase zero-emission vehicles, ignoring the fact that these trucks are early-stage technologies and the infrastructure to support them does not exist.
"Fleets are just beginning to understand what it takes to successfully operate these trucks, but what they have learned so far is they are significantly more expensive, charging and refueling infrastructure is nonexistent, and ZEVs are not necessarily a one-for-one replacement — meaning more trucks will be needed on California roads to move the same amount of freight," he said. "California is setting unrealistic targets and unachievable timelines that will undoubtedly lead to higher prices for the goods and services delivered to the state and fewer options for consumers. As it becomes clear that California's rhetoric is not being matched by technology, we hope the Board will reverse course and allow trucking companies the freedom to choose the clean technologies that work best for their operations."
Eric Sauer, CEO of the California Trucking Association added that, for years, his group has urged CARB to listen to trucking experts regarding how the industry can successfully deploy zero-emission trucks, "however, CARB has outright ignored the nation's leading fleets and has put forth an overly ambitious, unrealistic and unfeasible proposal," he said.
Sauer called the ACF regulation "deeply flawed," adding that it does not take into account the lack of charging infrastructure, the availability of electric trucks, the added weight batteries will add to these vehicles, the environmental impact of battery production and disposal, and the potential impact on smaller trucking companies that do not have the resources to overturn their operation in such a rushed timeframe.
"The only effect ACF implementation will have is that it will guarantee a complete dismantling of our state's trucking industry and have detrimental effect on goods movement and the entire supply chain," he said.
Some exceptions apply
Carriers with 10 or fewer vehicles, or agencies that are in certain designated counties, will be exempt from the ZEV purchase requirement until 2027.
In cases where a zero-emission truck is not available for purchase, fleets are also exempt from the requirement. The ZEV Purchase Exemption allows a fleet owner to purchase a new internal combustion engine vehicle and exclude it from the internal combustion engine vehicle removal requirement of the Model Year Schedule, or exclude it from the ZEV Milestones calculation. Exemptions to purchase internal combustion engine vehicles would only be needed if the fleet cannot otherwise meet the ZEV targets, CARB said.
A fleet owner may also apply for an exemption if a ZEV cannot be configured to meet the primary intended function the fleet owner needs. There are also exemption provisions for infrastructure challenges, and mileage/range shortfall considerations.