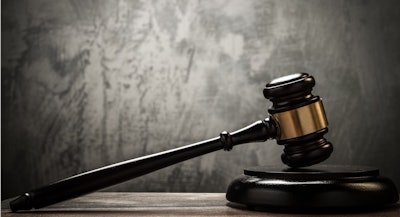 U.S. Attorney for the Western District of Michigan Mark Totten Tuesday announced two companies and several individuals have been sentenced for violating the Clean Air Act by disabling the emissions control systems of semi-trucks.
U.S. District Court Judge Paul L. Maloney confirmed the felony convictions of corporate defendants Accurate Truck Service, LLC, and Griffin Transportation, Inc., both of Grand Rapids, Michigan and ordered the businesses to pay a combined maximum fine of $1 million ($500,000 each) and serve a year of probation.
Maloney also sentenced the owners of these businesses. Craig Scholten and Ryan Bos were each fined $6,000 and sentenced to a four-month term of home detention as a portion of their one-year probation sentence. Douglas Larsen was fined $7,500 and sentenced to two-month home detention as part of a one-year probation sentence. Scott DeKock was fined $10,000 and received one year of probation. In imposing the sentences,
"This case is one of the largest of its kind ever charged in the United States and today's sentences send a loud and clear message that polluters who break environmental laws will be held accountable," said U.S. Attorney Mark Totten. "Environmental rules safeguard the water we drink, the lakes we fish, and the air we breathe. It's critical that we protect our people and our planet from harmful pollutants."
According to a statement from Totten's office, the two companies, and the four individuals all pleaded guilty to charges of conspiring to violate the Clean Air Act. According to public records filed in the case, Accurate Truck Service, LLC, is owned by Larsen, Scholten, and Bos. Griffin Transportation, Inc., is owned by Scholten and Bos. DeKock used to own a shipping company involved in the scheme.
Totten's statement said Accurate Truck Service, LLC, removed or altered the hardware components of trucks with heavy-duty diesel engines; these components controlled the vehicles' emissions. A separate company, Diesel Freak LLC, reprogrammed the engine computers of the trucks so that they would continue to function even after the hardware was removed or altered.
This process is sometimes referred to as a "deletion," that is, "deleting" the emissions controls from the vehicles.
Griffin Transportation, Inc., and the company DeKock formerly owned engaged Accurate Truck Service, LLC, and Diesel Freak LLC to "delete" trucks owned, operated, or leased by the companies. During the conspiracy, Diesel Freak LLC was involved in at least 362 deletions; Accurate Truck Service, LLC, in at least 83 deletions; Griffin Transportation, Inc., in at least 12 deletions; and DeKock's former company in at least four deletions.
Diesel Freak LLC, Diesel Freak LLC's owner, Ryan Lalone, and Diesel Freak employee Wade Lalone are scheduled for sentencing before Maloney on Dec. 11.