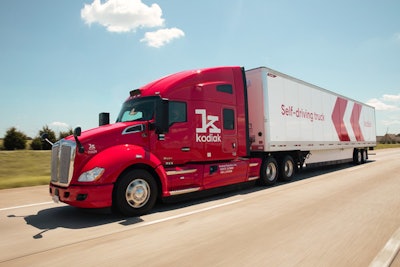 The California Senate on Monday passed AB 316, a bill that requires trained human safety operators to be inside an autonomous heavy-duty vehicle while it is operating on public roads in the state. The bill would be a by proxy a ban of driverless trucks on the state's roads.
The bill had met resistance from the state's technology and autonomous technology stakeholders, many of which are headquartered in California, and Gov. Gavin Newsom, whose Department of Motor Vehicles (DMV) and Office of Business & Economic Development (GO-Biz) raised concerns with the proposed ban.
"We are disappointed to see AB 316 pass the California Senate. The Department of Motor Vehicles and Governor's Office of Business and Economic Development (GO-Biz) were correct that AB 316 undermines oversight of expert regulators in California," said Jeff Farrah, executive director for the Autonomous Vehicle Industry Association (AVIA). "AB 316 will also lock in the unacceptable safety status quo on the state's roads and cause California to miss out on the supply chain benefits of autonomous trucking. We urge Governor Newsom to veto AB 316 so experts in his administration can evaluate autonomous trucking technology and ensure California benefits from the technology."
The California DMV said it opposes AB 316 because "it will not increase safety and will, in fact, have a chilling effect on the development of technology in California that is intended to result in increased safety benefits on our roadways."
GO-Biz expressed concern about AB 316's potential impact on California's overall economic competitiveness and the state's ability to carry forward momentum from billions of dollars in recent investments for supply chain infrastructure.
Why are driverless trucks safe, according to AVIA?
The federal government, through the National Highway Traffic Safety Administration (NHTSA), requires all companies using autonomous vehicle technology to report any incidents (even minor) with the technology under a Standing General Order (SGO). This is a higher degree of transparency than any other vehicle type.
In 2 years of reporting and tens of millions of miles driven on public roads, there has never been a fatal AV crash.
Only 14 reported incidents have included AV trucks - just 5% of all incidents.
Only 1 reported incident with injuries. This moderate injury occurred in a crash caused by another human-driven truck and was not the fault of the AV.
3 of the incidents were reported because debris or other materials in the middle of the road caused damage to the vehicle. No crash occurred.
The data reported by the AV industry includes even minor incidents, such as a human-driven vehicle that crashes into a parked AV or when road debris hits the vehicle's windshield.
AV trucks use advanced technology to make better decisions and overcome the number one cause of truck crashes: human error. AV trucks:
Have 360 degree visibility to the circumstances around them
Make faster decisions than human driven trucks
Do not drive drunk, fatigued, or distracted
Are programmed to be aware of vulnerable road users, such as motorcyclists, and adapt to emergency situations