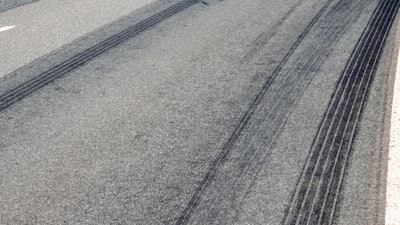 Bendix Commercial Vehicle Systems Monday announced its endorses the recent action taken by the National Highway Traffic Safety Administration (NHTSA) and the Federal Motor Carrier Safety Administration (FMCSA) to improve highway safety.
The agencies published a Notice of Proposed Rulemaking (NPRM) on July 6 that would require automatic emergency braking (AEB) systems on heavy vehicles – those with a gross vehicle weight rating greater than 4,536 kilograms (10,000 lb.). The notice also proposes to amend FMVSS No. 136 to require nearly all heavy vehicles to have an electronic stability control (ESC) system that meets the equipment requirements, general system operational capability requirements, and malfunction detection requirements of FMVSS No. 136.
In September, Bendix submitted a complete response to the agencies regarding the company's position on the NPRM. The company shares its belief that the mandate is a good step while identifying points of concern and offering recommendations to address them.
[RELATED: NHTSA, FMCSA propose new automatic emergency braking system standard]
"Bendix supports helping to make roads safer for all drivers and passengers," says Fred Andersky, Bendix director of government and industry affairs. "Technologies such as AEB and ESC help accomplish this goal. The Heavy Vehicle AEB mandate is a step in the right direction to help advance this goal. However, we have reservations – which we addressed in our comments – regarding single-unit truck implementation and timing, along with training/education, maintenance, and performance testing. That said, Bendix supports the intent of NHTSA and FMCSA and looks forward to working with the agencies to address our areas of concern with the NPRM."
As described in the NPRM, an AEB system uses multiple sensor technologies and sub-systems that work together to sense when the vehicle is in a crash-imminent situation and automatically applies the vehicle brakes if the driver has not done so, or automatically applies more braking force to supplement the driver's applied braking.
Bendix is a North American leader in the development and manufacture of active safety, air management, and braking system technologies for commercial vehicles, including advanced driver assistance systems (ADAS) that deliver stability control and collision mitigation. The company says it offers a range of recommendations in its detailed response to the NPRM. Most importantly, it suggests that NHTSA and FMCSA keep their perspective on collision mitigation and not expect a crash avoidance approach, in keeping with the technology available today and for the foreseeable future.
"The driver is still an integral part of the safety equation and remains in control of the vehicle at all times," Andersky says. "Safety technologies such as stability control and collision mitigation complement safe driving practices and are not intended to enable or encourage aggressive driving. No technology replaces a safe driver practicing safe driving habits, and comprehensive driver training. All safety systems have limitations. Education and awareness – including ready access to the Operator's Manual prior to getting behind the wheel – are vital in ensuring that drivers understand what the systems can and cannot do in specific situations they may encounter on the road."
According to its NPRM response, Bendix is concerned the agencies are advocating a rulemaking requiring systems to deliver crash avoidance in every testing scenario. "While we appreciate the intent, at this time, we see it as aspirational and not yet achievable," Andersky sas. "Therefore, Bendix proposes a testing approach that recognizes mitigation as the result and speed reduction as the requirement."
To that end, Bendix states it believes it's essential to consider a more detailed approach to the certification test, including specific speeds for testing.