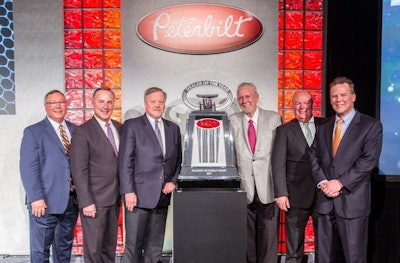 Allstate Peterbilt covers a lot of ground. Figuratively and literally.
The company's footprint stretches from western Wisconsin all the way to the Montana and Dakotas state line. It's nearly 800 miles from one edge of the coverage area to the other, and with 24 locations spread evenly across five states, Allstate Peterbilt has built its business to be positioned to respond quickly to customer needs across that great space.
Wondering who is going to win our Successful Dealer Award?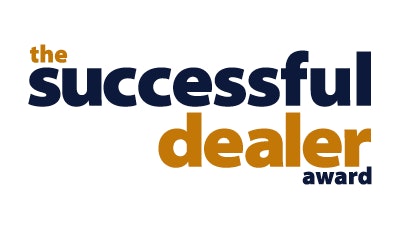 You are in luck. This year's award presentation will be held Nov. 19, and presented live through our website. Sign up now to have access to the event, and learn more about how to better serve your customers from our keynote speaker Al Barner of Fleet Advantage. Sponsored by Interstate Billing, National Truck Protection, Premium 2000 and TopMark Funding.
Yet, the company is impressively responsive in other regions as well.
Thanks to its groundbreaking fleet service team, Allstate Peterbilt has the capacity to work with Peterbilt dealer partners to coordinate emergency and scheduled service events for its largest customers no matter where their trucks roam.
The way Allstate Peterbilt President Jeff Vanthournout describes it, though Allstate's footprint is in the northern Great Plains, being an Allstate Peterbilt customer means operating with the assurance that wherever you go, your dealer has your back.
"If you're going to run in our territory, we are committed to providing you the best option," he says.
Adds Director of Truck Sales Tom Wentworth, "Our recipe for success has always been we want to provide a full range of services to our customers. We're going to service you after the sale. We're going to have the locations you need so you can rely on us."
It is that tireless commitment to customer service, as well as a number of other corporate initiatives, that has led the company to earn multiple Peterbilt and Paccar dealer of the year awards. This year it also helped the company be named a finalist for the Successful Dealer Award for a second time.
First a finalist in 2013, Allstate Peterbilt has grown substantially in seven years, expanding its footprint and services in its quest to be the market's most trusted and reliable dealer.
Vanthournout says the company's fleet services team was one of its most substantial efforts, spurred by Wentworth's sales team.
"They saw this horrible situation where our customers were dealing with dealers [in other markets] they didn't know and were kind of stranded," says Vanthournout. "They weren't getting the service they required."
Knowing "service is everything in this business," Vanthournout says Allstate quickly leveraged relationships with some of Peterbilt's other large dealer groups to develop a specialized support process that ensures Allstate customers experience responsive, attentive service at all times.
And the company's commitment to its customers goes well beyond managing breakdowns.
Nearly a decade ago Allstate launched PeterbiltParts.com, one of the most comprehensive Peterbilt, Paccar and TRP parts houses on the internet, and around that same time the company supplemented its online push with its own parts warehouse. The moves were viewed as radical at the time but have proven to be prescient in the time of coronavirus.
Vanthournout says all too often today's parts customer isn't willing to wait for a distributor to special order a part. That's doubly true in a pandemic, when so many loads absolutely must arrive on time. With 30 million parts in its warehouse, Allstate rarely if ever cannot immediately service a customer's parts need, Vanthournout says.
"If you don't have it or you don't sell it, a customer is going to go right on to someone else who does," he says.
Yet to fully understand Allstate Peterbilt, Vanthournout says its best to look inside the business. It is the company's internal culture that makes its corporate initiatives work and has made it such a pillar in both the Peterbilt network and the communities it serves.
Allstate Peterbilt hires on attitude, aptitude and personality, Vanthournout says. Few employees exit the business from the same roles they entered (and mostly through retirement).
"When we hire, we don't hire people for a job," he says. "We tell them, 'This is your job today but here's where your career path can take you.'"
And it is that long-haul mentality that empowers employees, both in responding to customer needs and suggesting community involvement. Regarding the latter, Allstate Peterbilt supports more than two dozen organizations and is active in trucking associations across the Great Plains.
"Like we do with our customers, we will ask [our communities] what they are looking for and if there is a problem we can help them solve," Vanthournout says.