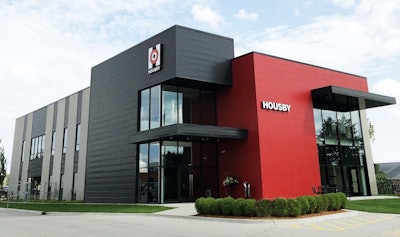 "We never say 'No.' We say, 'No problem,'" says Housby General Manager Tyler Olson. "When customers come to us with a problem, we always want to have a solution. And if we don't have one, we will work to find one.
"We take a lot of pride in being able to figure things out for our customers, no matter their needs."
Promises of customer service can be found in a lot of truck dealerships but few operations live their commitments like Housby. For more than 50 years, the Iowa Mack dealer has thrived by being open to all customer requests, willing to think outside the box to find solutions and never forgetting that respect is earned, not given.
"That was one of [founder] Jack Housby's favorite sayings, 'Respect is the hardest thing to earn but the easiest thing to lose,'" says Morgan Wentland, Housby vice president of human resources. "That's what we live by."
And it is thanks to those values — and the company's continuing success due to them — that the company has been selected as finalist for the Successful Dealer Award for the second time.
[RELATED: Finalists announced for 2023 Successful Dealer Award]
Previously recognized in 2020, Olson says Housby is a larger, stronger and more versatile operation than it was three years ago. Forced to evolve like all dealers during the pandemic, Olson says Housby offers services now it never would have thought of pre-2020. The world being flipped upside down is a definite driver of innovation, he says.
The company's most valuable new resources are its on-site mobile service programs for engine, paint and welding work. Olson says these programs were born out of customer requests and have grown immensely popular since their introduction.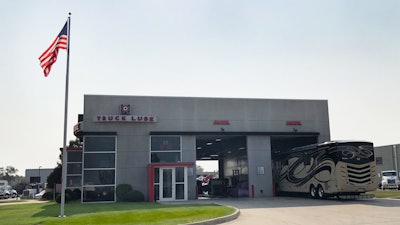 "We had a customer who is kind of remote who said they needed to have some trucks rebranded. We offered to go to them so they wouldn't need to move all the equipment to our store. They said that'd be great — if we could figure out how to do it," Olson recalls.
The first trucks took a little time while Housby's team determined the best way to complete the job, but once a process was built, turnaround time (and customer demand) accelerated dramatically. Olson says Housby has painted more than 1,000 units remotely since the program debuted and is averaging three days to complete a paint job on a Class 8 truck. He says the industry average is 46 days.
"I think the mobile programs have shined a light on opportunities for us," he says. "I think we realized it's not always easy for customers to come here. If we can go to them and take care of them, they are so appreciative."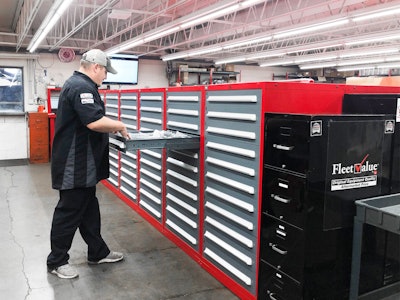 The dealer is building other resources too.
One is a new headquarters in Des Moines scheduled to open in March. Wentland says the facility will house many of the company's 250 associates — Housby also is a Volvo construction equipment dealer — and is being built to support several new programs and services.
Among those programs is Housby University, the company's groundbreaking nine-month diesel technician training program. Olson says the program was developed help assimilate high school or vocational school students into the business. Throughout the program, Housby provides students all training materials, classroom supplies and tools, as well as a part-time paid position within the company and a monthly housing stipend. Upon graduation, all students are Mack Master Certified and routed into a full-time role within the company.
Three students completed the program in the spring and four are registered for the fall. Olson also says there are plans to expand the program into other areas of the business, which he believes will only continue to strengthen the company's recruitment and retention capabilities.
"I think our innovativeness is part of why we were nominated for this award," he says. "I got a lot of reactions from colleagues when they found out we were doing this. There were a lot of questions about how we were going to do it.
"I think our creative mindset speaks our culture … We have a very family-first mindset. When someone comes into the business they become part of the Housby family."
Wentland agrees, adding not only does Housby have a strong retention rate, it also has a large segment of employees who are second-, third- and fourth-generation employees. She herself is third-generation team member.
"There is a strong sense of family values here," she says. "When we bring someone into the business, we want them to stay here for their career."
The 2023 Successful Dealer Award is sponsored by Automann, Interstate Billing Service, Karmak, National Truck Protection and Premium 2000. For more information on the award program, go to the award story archive.