If you haven't done it yet, you have only a few more days to nominate one of our industry's best dealers for the Successful Dealer Award and our new Trailblazer Award! The open nomination periods for both programs end on May 31.

The Successful Dealer Award elevates the industry's strongest truck dealers, recognizing them for the many ways they support their customers, employees, communities and the trucking industry at large. All medium- and heavy-duty truck dealers except 2022 winner Rihm Kenworth are eligible for the award, and nominations can be submitted by anyone in the trucking industry. To do so, please CLICK HERE.
Sponsored by Automann, Interstate Billing Service, Karmak and National Truck Protection/Premium 2000, the Successful Dealer Award also features one of trucking's most unique events — our annual award summit. This year's event will be held Oct. 9-11, at The Thompson in Nashville. Invitations for this exclusive event are limited to only 2023 award finalists and prior winners, with finalists receiving two free all-inclusive registrations to attend.
The Successful Dealer Award Summit was introduced in 2021 and has expanded dramatically in two years. In bringing together prior award winners and current award finalists, the event serves as an open forum for many of trucking's most impressive dealer groups to discuss industry pain points, winning business practices and sales tactics, recruitment and retention strategies and more.
[RELATED: Rihm Kenworth earns 2022 Successful Dealer Award]
Attending the Successful Dealer Award Summit is a great way for a truck dealer to make connections with industry leaders and peers, address challenges facing their businesses and realistic solutions. But access and attendance requires participation in the Successful Dealer Award program; interested parties should not hesitate to nominate their businesses today.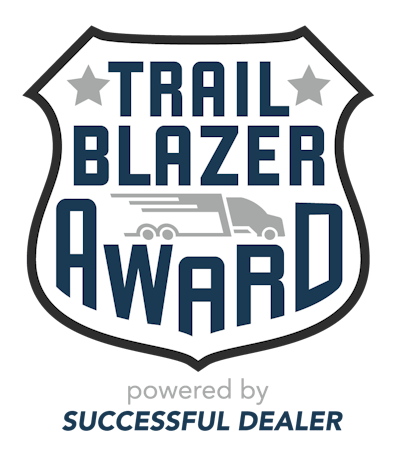 The nomination window for the inaugural Trailblazer Award, powered by Successful Dealer and sponsored by Procede Software and Hendrickson, also will close on May 31.
The Trailblazer Award was built with a similar focus on dealer acknowledgement and recognition but evaluates dealers exclusively on their trailer dealer business. Any dealer who sells new commercial trailers is eligible for the award (meaning dealers who represent truck and trailer brands are eligible, but only their trailer business is evaluated within the context of the program).
Finalists for the Trailblazer Award will be publicly recognized during a reception at the National Trailer Dealers Association (NTDA) Convention in October, with the winner being announced at the convention awards banquet on Oct. 6. To nominate a business for the Trailblazer Award, please CLICK HERE.
Once the open nomination periods for both programs close, all nominated dealers will be contacted by TPS in June and be asked to complete a business questionnaire that will be used to evaluate their company against their peers. These questionnaires will serve as the rubric by which both programs will select their five finalists, which will be announced to the industry in July.
For more information about the program, please check out the Award program homepages within the TPS website, or email Lucas Deal at lucasdeal@randallreilly.com.
To nominate a dealer for either program, please use the links below.
NOMINATE A TRUCK DEALER FOR THE 2023 SUCCESSFUL DEALER AWARD