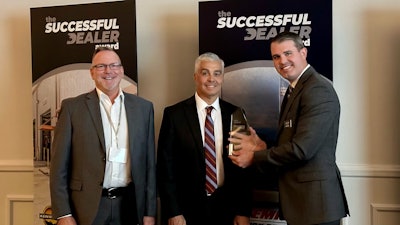 Premier Truck Group was named winner of the 2023 Successful Dealer Award on Tuesday during an awards banquet in Nashville.
Sponsored by Automann, Interstate Billing Service, Karmak, National Truck Protection and Premium 2000, the Successful Dealer Award recognizes medium- and heavy-duty truck dealers for their consistent business excellence, customer responsiveness, workforce improvement, marketing expertise, civic engagement and more.
Premier Truck Group took home this year's award over other finalists Housby, Kenworth of Louisiana, Tom's Truck Center and West Michigan International. All five dealers were nominated for the award through an industry-wide open submission process this spring, with finalists being selected based on applications submitted by the dealers this summer.

Premier Truck Group was also a finalist in 2021. In taking home this year's award, Premier Truck Group Executive Vice President Mark Lamont spoke highly of the company's more than 2,900 team members in the United States and Canada that enabled the business to reach such great heights in a short time while also praising the other award finalists.
"Thank you all so much for this. Quite frankly it's humbling," Lamont said. "I look around this room and I hear what you're doing — this is a very amazing group of people. This is very much appreciated and we're so proud of the opportunity to be a part of this group."
Director of Marketing and Communications Michael McHorse was also complimentary of the fellow finalists, "Every time I come to these events I learn so much. I heard so many great ideas today. There are some amazing things happening in the dealerships nominated this year."
Founded in 2013 and built through acquisitions within the Freightliner dealer network, Premier Truck Group has quickly developed a reputation as one of the most operationally effective and customer-driven dealers in North America.
In recent years, the company has focused its operations around O.N.E. — One Network Executing — and Premier's leadership team says the mantra has been more than just a corporate slogan. Coupled with a restructuring of the company's regional management operations and investments in companywide communication and training, Premier Truck Group's in-market performance metrics have never been higher, says President and CEO Ron Long.
But he also notes corporate investment alone isn't what makes Premier successful. The company's network is vast, but each of its 44 stores have their own unique resources and advantages that make them successful.
[RELATED: Learn more about 2023 Successful Dealer Award finalist Premier Truck Group]
"When we buy a store, we don't show up with PTG in a box and immediately change everything the dealer was doing," says Long. "Generally, when you buy a business. you're buying it because of the respect that business had in its market. You don't want to lose that by making big changes on the first day."
Long says instead, Premier uses a hands-off integration process that continues to pay dividends.
The company has an onboarding team its dispatches to stores to speak with new associates, provide corporate information and aid in updating necessary business systems. But out in the shop or in the field, Premier is initially silent. Long says customer-facing employees are encouraged to keep doing what's always worked for them and only after an observation period will Premier recommend any changes — and then only to improve deficient areas.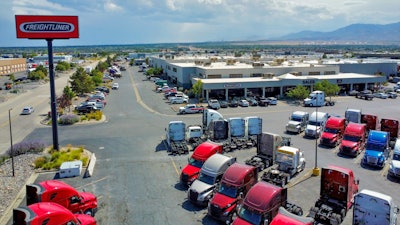 Long says this approach has proven vital at earning employee buy-in. Associates appreciate the respect they are given at the outset of joining the team and are able to continue leveraging tactics that work for them in their market. He also notes employees are encouraged to try new things to improve customer experiences, and great ideas are amplified.
"If we find something is working well somewhere, we will share it across the group," Long says.
Premier's willingness to support associates with excellent training and career development programs helps, too. For technicians, Premier operates eight training centers, has nine certified trainers and offers 17 Daimler Truck North America (DTNA) truck and engine certification classes. Supplier courses also regularly are made available.
[RELATED: Royal Truck & Utility Trailer wins the inaugural Trailblazer Award]
And that's not all. The company's Ignite learning management system (LMS) may be the most comprehensive leadership training entity in the North American dealer market. The LMS has more than 500 training courses to support dozens of roles across the company. Filled with instructional bulletins, videos, job aids and other tools, Ignite has department and role-specific onboarding content, professional and personal development guidance, best practices for intra-office communication and more.
Vice President of Fixed Operations Ryan Hadley notes Premier also has a mentor program for technicians to facilitate their career progressions, and the company's new PREP initiative (Premier's Rotational Experience Program) will offer a similar career path development track for leadership and management roles.
"We believe it is essential to invest in retention programs," Hadley says.
Premier's focus on retention extends to its customer base as well. In addition to its employee-empowered approach to customer service, Premier also introduced a customer advocate team this year to better support customers during vital business interactions and constantly surveys customers to understand its strengths and weaknesses.
"We want to be providing the best experience in each of our markets," says Long.