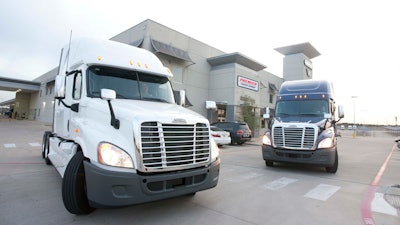 There might be 44 locations within Premier Truck Group. But President and CEO Ron Long says the company's focus is on O.N.E. — One Network Executing.
"O.N.E. is a strategy we've committed to," says Long. "We want to be known as one network and provide the best customer experience, employee experience and operational efficiencies across our entire network."
He adds, "We believe those three things are complimentary. If we can provide those [across our network], we will earn repeat business with our customers, which will allow us to invest in our people and our facilities."
As it quickly becomes one of the largest dealer groups in North America, it's clear the company's strategy is working.
Premier Truck Group was founded in 2013 when Penske Automotive Group entered the commercial truck dealer space. It has expanded steadily, and this year has been named a finalist for the Successful Dealer Award for the second time.
Long says a lot of the company's strategies that earned its first nomination in 2021 remain key aspects of the operation that have only been enhanced the last two years.
The O.N.E. mantra is part of those advancements. Long says Premier Truck Group has strengthened its regional management support teams across its network to improve communication and better engage with customers and their challenges. A new customer advocate business also has been developed to support that engagement.
[RELATED: Finalists announced for 2023 Successful Dealer Award]
Staffed with 15 full-time customer service experts, the division offers transparent customer communication during all service events and, when necessary, dialogues directly with Daimler Truck North America or other suppliers to resolve timely customer issues, says Vice President of Fixed Operations Ryan Hadley.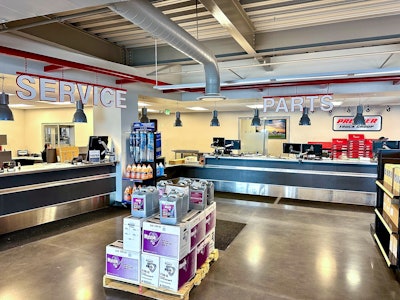 "Their whole goal is to make sure a customer is communicated with as well as possible," he says, "and step in and find solutions immediately when a problem arises."
Information sharing is essential in other areas of the business too.
Premier Truck Group has several corporate meetings each year where divisions of the company come together to discuss operational tactics and best practices. The company also conducts workforce surveys regularly and has an internal tool called Idea Central where anyone can post an idea that could improve the business, and it is routed to a team leader who connects with the associate for discussion.
Long says these tools are invaluable — not only for the innovation that comes from the discussions, but also for their impact on employee engagement. Employees across Premier's network understand their opinions are valued.
"We want to be an open-door workplace," he says. "When someone has an idea, we want them to share it."
Encouraging employee engagement in the business also has a positive impact on workplace culture and retention.
Despite its size, Long says Premier's turnover rate is shockingly low. He cites the company's defined career paths and mentoring programs for technicians, corporate focus on promoting from within, as well as its new rotational experience program (called PREP), as reasons for keeping turnover low.
Long says once someone is part of the Premier operation they may move up, but they rarely move out. And he cites his own role as an example. Long says he was promoted to president and CEO when the company's prior leader moved into a role within Penske Automotive Group. He then backfilled his prior role with an internal promotion, and the person who took that role did the same with his prior position, and on and on.
Long says, "I think it was seven people deep. We promoted so many people forward that we only had to hire for a new used truck salesperson in Idaho."
And keeping talent within the business helps Premier maintain industry expertise essential to navigating the many changes occurring across the trucking industry. Premier is investing heavily to support new vehicle technologies and electric vehicles, and also introducing new uptime solutions and service products that will support evolving customer needs.
Executive Vice President of Sales and Marketing Brian Vostrez says the changes are a lot to take on but are essential to remaining a market leader.
"It used to be there were one to two things you needed to keep up with every two to three years, now it's five to six things each year," he says.
Long agrees but adds Premier is selective in when it launches new solutions too. Every product it brings to market supports O.N.E.
"One thing we've learned by experience — pick the things you're going to do, do them well and don't bite off more than you can chew," he says.
The 2023 Successful Dealer Award is sponsored by Automann, Interstate Billing Service, Karmak, National Truck Protection and Premium 2000. For more information on the award program, go to the award story archive.