"We're a customer service business. That's what we do," says Kenworth of Louisiana Regional Manager Davin Severa. "We provide service by selling trucks and parts, doing repairs, having a [fabrication] shop and other things, but our main priority is being good partners to customers. We tell them we want to be their experts, and we take a lot of pride in being able to do that."
In a diversified, industry-rich state like Louisiana, a commitment like that isn't made lightly. But Kenworth of Louisiana takes it in stride.
For nearly 60 years, the company founded as an automotive service shop by Joe Teuton has consistently transformed as local industry, customer needs and manufacturer capabilities have changed. Now representing Kenworth at seven locations across the Bayou State, Kenworth of Louisiana continues to thrive by never settling for good enough. In an industry where customer expectations have never been higher, Kenworth of Louisiana and its 350 associates treat every day and every customer interaction as an opportunity to improve.
Says second-generation owner and Vice President Jodie Teuton, "I think we're good at what we do, but we work to be better every day. We're never satisfied with what we're providing. We know our customers' success is our lifeblood. We treat our customer relationships like we are their partners."
[RELATED: Finalists announced for 2023 Successful Dealer Award]
It's a mantra that has clearly paid off, as the dealership has grown rapidly since earning its first Kenworth franchise location 19 years ago and in 2023 has been named a finalist for the first time for the Successful Dealer Award.
"One thing that has really worked for us over the years is we have a management team that gives people chances," says Scott Oliphant, president and co-owner with his wife, Teuton. "I think part of that was necessary due to our growth. When we were expanding rapidly, we had roles we needed to fill and we were very open to giving opportunities to those who stepped up within the business. They earned those opportunities and we told them to 'take it and run with it.'"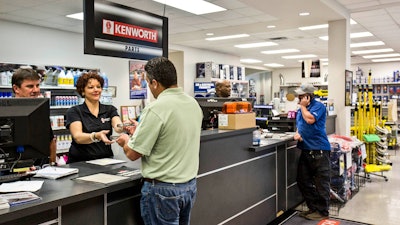 That unique culture of empowerment and upward mobility is something Oliphant and his team now work hard to sustain. Associates who see colleagues promoted into roles they desire due to their work ethic are often motivated to do the same. The Kenworth of Louisiana leadership team values and appreciates those efforts, and constantly strives the move associates into roles that will best utilize their skills.
"My uncle once told me 'Most people have a place in your dealership. It is your responsibility to find the right place for them,'" Teuton says.
The dealership's focus on customer service also can be found in its wide array of services and willingness to provide unconventional support to customers in need.
The company's fabrication shop is a huge asset in its region, where vocational customers make up a large segment of customers. Kenworth of Louisiana also has a 1,000-unit leasing fleet, one of the region's largest, and will occasionally fabricate custom truck bodies onto its own equipment for vocational customers in immediate need of specialty equipment. Vice President of Operations Jude Becnel adds the company also will have three locations certified as Kenworth PremierCare Gold facilities later this year, bringing its corporate total to four.
"Everything we do is about making our customers' experiences better," says Severa.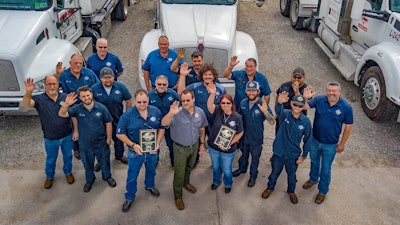 That includes customer experiences during times of great duress.
In the aftermath of Hurricane Katrina, Kenworth of Louisiana briefly housed associates and customers at its Baton Rouge location and worked with Kenworth to expedite equipment into the New Orleans area to help customers with cleanup and getting their businesses back up and running. After another hurricane, the company's Houma headquarters provided lunches for customers and local residents for 38 consecutive days so people had a reliable place to eat.
In 2021, when the supply chain began to fracture, Kenworth of Louisiana proactively began a bulk purchasing initiative for many key part numbers to ensure customers wouldn't have their existing equipment sidelined in a market where new and used units were nearly impossible to acquire.
The dealership's larger commitment to trucking can't be overlooked as well. Teuton was the first female chairwoman American Truck Dealers (ATD) history. Oliphant is active in multiple Louisiana trucking associations. Becnel serves on three technical school advisory councils. Kenworth of Louisiana also is an active supporter of many professional and charitable organizations near and dear to the hearts of its associates and customers.
"You have to be an advocate for your industry," Oliphant says.
The 2023 Successful Dealer Award is sponsored by Automann, Interstate Billing Service, Karmak, National Truck Protection and Premium 2000. For more information on the award program, go to the award story archive.