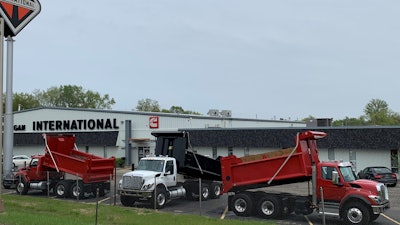 A lot of companies speak about the importance of having the right people in the right roles. Very few commit to the mantra like West Michigan International.
Known across the Michigan trucking sector for decades for its strong family values, immeasurable customer service and tremendous service expertise, in recent years West Michigan International has become a practitioner of the Entrepreneurial Operating System (EOS), a set of business practices and concepts that help companies clarify and achieve their vision.
Admittedly, Dealer Principal and President Ed Rietman says West Michigan's vision hasn't wavered since he and business partner Jeff Kolean founded it as a rebuilder and service shop in the 1980s. The company that became K&R Truck Sales and West Michigan International has always had a keen focus on uptime and driving headaches and downtime out of customer's operations.
Where EOS has taken the business up a notch has been in how it enabled the company's management to better position its associates and lead its workforce. West Michigan International has never run more efficiently than it does today, with employee turnover rates at all-time lows and sales at all-time highs.
It's also helped the company to be named a finalist for the second time for the Successful Dealer Award.
"A big part of EOS is making sure you have the right person in the right seat and that has been huge for us," says Rietman. "We have a lot of great people. EOS has helped us to better understand who should be customer facing and who might have more success in other roles."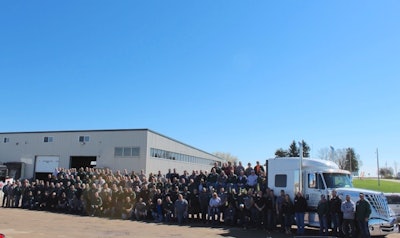 By moving associates into positions that best fit their talents and natural preferences, Rietman says West Michigan has increased employee morale and productivity. "Our employees are the best tools we have," he adds. "We're maximizing their abilities."
Customers are taking notice.
Robb Lubbers, new and used truck sales manager, says his sales team regularly receives compliments from customers about the positive experience they have working with West Michigan. Operations Manager Micheal Toribio agrees, noting since initiating different EOS-based corporate communications processes, customer satisfaction feedback has never been higher.
[RELATED: Finalists announced for 2023 Successful Dealer Award]
That positive feedback is shared internally as well. Particularly since the onset of the COVID-19 pandemic, West Michigan has been vocal in sharing with its workforce how vital its work is, not only for customers but also the greater economy and society. Doing so has been another boost for morale and employee engagement.
"We really are an essential industry and I don't think a lot of people gave that a lot of thought before [2020]," says CFO Don Schra. "That experience raised our ability to say, 'What we do is important' and I do think people appreciated that."
But West Michigan's leadership team also notes the company isn't resting on its successes. If anything, it is just driving the business to even greater heights.
Rietman says, "We've never really liked saying 'no' to customers," and in today's ever-changing trucking industry, that means evolving every day.
One evolution he's proud of is how the company is staying ahead of the curve on battery electric vehicles. Customer demand is yet to reach a fever pitch in Michigan, but Rietman says West Michigan is working with Navistar, customers and its vendor partners to prepare for the technology once it starts expanding in the region.
"We've had a few customers start asking about it. We share our plan and how we intend to be ready," says Rietman. "If we don't stay engaged, we could start falling behind."
The dealership also invests heavily in training — for employees and customers alike. The latter is an area where Rietman is especially proud. West Michigan regularly holds vendor training courses at its locations for customers and also will coordinate with supplier to provide specific training or tools to customers at their request.
"A lot of dealers don't like giving their customers tools; we go the other way," Rietman says. "We feel it's more important to give them the tools they need to do the work they need. We may lose some opportunity there, but I think it helps us in the long run."
The company's family business roots keep it engaged in its communities as well. West Michigan supports dozens of local and regional charitable organizations and donates a share of parts profits for a month each year to charity chosen by its staff. Toribio says the campaign is always a big hit, as the workforce loves the opportunity to give back to its communities.
"It's something everyone enjoys," she says.
The 2023 Successful Dealer Award is sponsored by Automann, Interstate Billing Service, Karmak, National Truck Protection and Premium 2000. For more information on the award program, go to the award story archive.