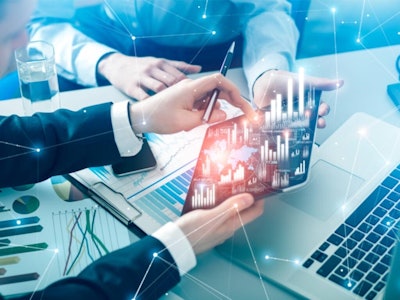 Volvo announced a new analytics tool that will allow its dealers to access real-world data to maximize fuel efficiency and productivity.
Connected Vehicle Analytics collects data from fleet operations, including truck configurations, routes, average speed and fuel efficiency and can help dealers to recommend ideal configurations for other customers.
[RELATED: Volvo announces new Volvo Blue maintenance plan]
"It allows us to specify this truck and tailor fit it to our customer's application," says Duane Tegels, Volvo's product marketing manager for powertrain. The real-world data can help all customers improve their fuel economy and reduce emissions, Tegels says.
Dealers can access this anonymized pool of vehicles to benchmark how a customer's fleet is performing compared to other, similar vehicles. Fleet operators can use the tool to evaluate fleet performance, fuel efficiency and ideal vehicle configurations by working with their Volvo Trucks dealerships.
"Working in close collaboration with our dealer partners, Volvo Trucks is committed to helping customers log more miles using less fuel. The CVA tool includes a robust dashboard where dealers can monitor how fleet customers are operating their Volvo trucks and where there are opportunities to optimize their efficiency and productivity by enhanced spec'ing," says Johan Agebrand, director, product marketing, Volvo Trucks North America. "This new way of dealers working with aggregated, real operational data to provide insights is a prime example of how Volvo Trucks continually develops tools to better support customers in their journey to improve fuel efficiency and productivity, enabling them to reduce costs and emissions in order to meet their sustainability goals."