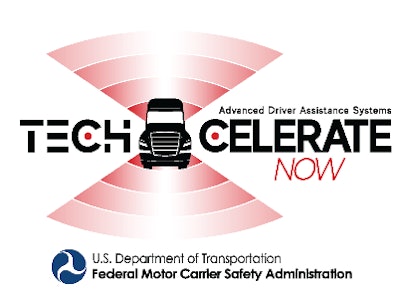 High-tech safety systems are expensive, but the Federal Motor Carrier Safety Administration (FMCSA) says carriers should look at it as an investment.
FMCSA launched the Tech-Celerate Now program in 2019 to encourage carriers to adopt advanced driver assistance systems (ADAS). The first phase ran until Oct. 31, 2021, and enabled carriers to enter fleet data into an online calculator to see their return on an ADAS investment.
[RELATED: As ADAS gets more advanced, calibration gets more important]
This fall, Tech-Celerate Now heads into its second phase, where FMCSA says it will refine the ROI calculator and continue working with carriers to encourage ADAS adoption.
"At this time, FMCSA does not provide funding directly to motor carriers," the administration says, but it promises to continue to work with fleet owners to understand barriers that limit ADAS adoption.
"The goal is to provide information about the benefits of these systems to fleets that have not yet adopted these technologies," says Shashunga Clayton, spokesperson for the FMCSA. "We are focused on accelerating adoption of ADAS to reduce fatalities and to prevent injuries and crashes."