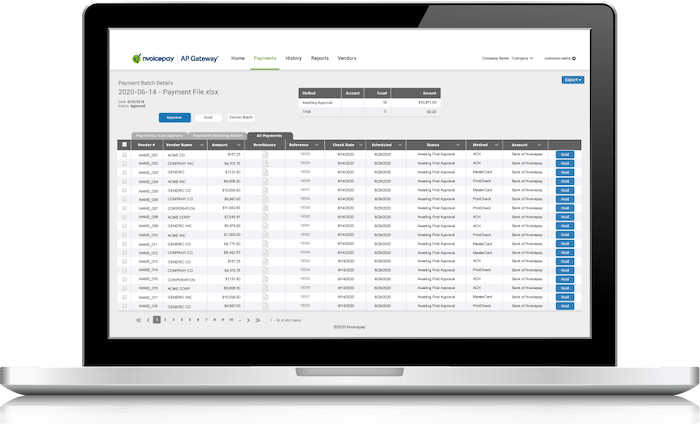 Procede Software announced Tuesday it has partnered with Nvoicepay, an industry leader in payment automation solutions.
Procede says Nvoicepay transforms the way dealerships make payments, enabling accounts payable teams to pay all supplier invoices in a single automated workflow. By utilizing intuitive cloud-based software and comprehensive services, Nvoicepay simplifies the vendor's payment automation processes.
"We're excited to help our dealership customers streamline their accounts payable transactions using the Nvoicepay integration within Excede," says Larry Kettler, CEO, Procede Software. "We strive to continuously provide value to our customers through our Certified Partner program, and by integrating with Nvoicepay, we're doing just that.
"Nvoicepay is both highly recommended and highly regarded in their industry, and this combined solution is already being well-received by our customers."
Procede Software says its partnership with Nvoicepay will provide customers value through streamlined payment automation processes with minimal human touchpoints, reduced costs, and improved bottom line results. Additionally, the Nvoicepay integration can handle complex environments with multiple hierarchies, workflow approvals, locations and bank accounts, as well as on-demand reporting, the company says.
"We are happy to bring Nvoicepay's business payment solution to Procede Software customers to improve operational efficiency and help them pay 100 percent of their supplier invoices electronically," says Karla Friede, Nvoicepay CEO. "By automating all payments, finance teams transform the manual and expensive effort that goes into paying suppliers, so they can spend more time on higher value-added tasks."
In an effort to continuously evaluate Procede Software's customers' needs, the company also says it recognized dealers were in need of a simple, secure way to collect and maintain vendor payment data. The Nvoicepay integration with Excede meets this need by transmitting posted disbursements documents from the dealership's database to Nvoicepay via a secure process eliminating the risk of locally storing or maintaining payment data.
Procede says the Nvoicepay Payment Automation Integration with Excede is now available to all Procede Software customers on Excede v10.0+.