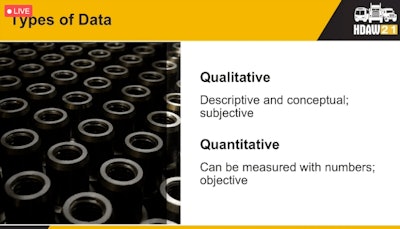 What do you get when you combine the TV show Mad Men and the movie Moneyball with shop management? You get a presentation by Jacob Findlay, CEO & Founder, Fullbay, explaining how to look at the right metrics and interpret them correctly.
Findlay explained how in Mad Men, the main characters made decisions from the gut, using qualitative information, while in Moneyball Oakland A's General Manager Billy Beane used myriad statistics to build his team using quantitative data.
"How does a diesel repair shop go from Mad Men to Moneyball? From qualitative to quantitative? You do it by embracing the right metrics and I am going to call these diesel metrics," said Findlay, as part of the Service Opportunities Learning Day (SOLD), an event held in conjunction with Heavy Duty Aftermarket Week (HDAW).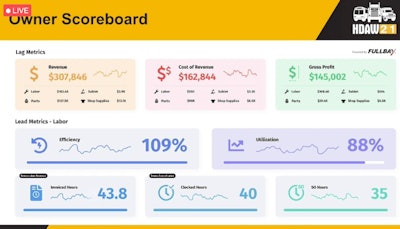 In explaining the importance of metrics, Findlay employed another comparison to sports.
"If you don't know the score you won't know which plays you need to run. The decisions you make are only as good as the information you base them on. If you have bad info, you're more likely to make bad decisions," Findlay said. "Shooting from the hip might have worked in the past, but what was good enough to get you here today will not be good enough for tomorrow."
Once shop owners get into diesel metrics, they realize they're all not created equal and should be grouped into two categories: lead and lag metrics. A lag metric is something that measures what you actually want but you can't directly influence. A lead metric is something you can directly influence and it predicts the lag metric. "The trick to getting what you want is to find the lead metrics you need to change that will get you there," he said.
The main lag metrics in truck repair are revenue and profit. But lag metrics are not directly influenceable. So what are the lead metrics for a shop? Invoiced hours, the labor charged, number of technicians, parts markup rate, tech efficiency and utilization. These are influenceable by owners and their team. If they want to increase their revenue and profit, their lag metrics, it's just a matter of pulling the levers for the right lead metrics, according to Findlay.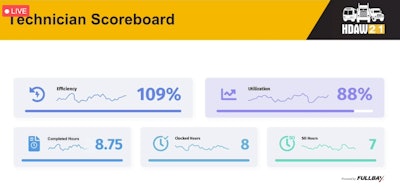 "Most shops have a serious problem when it comes to understanding revenue. They don't break it out. They lump labor, parts, shop supplies and whatever else into just one revenue number. This causes problems with understanding how well your shop is actually performing," Findlay said. "To really peel back the onion you have to break these out into what I call revenue type. You can't lump your revenue together and expect to win at shop management."
To further help shop owners manage their business, Findlay also discussed the use of dashboards, or scoreboards as he calls them, which are usually tracked in a shop management system. The scoreboards help owners and employees understand the lag and lead metrics. There are various scoreboards, such as for the service manager, technicians and parts department.
Findlay suggested what shop owners can do right now for their business.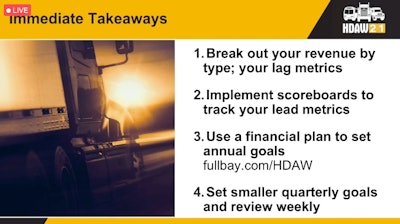 "Start breaking out your revenue by type. This gets you a clear picture of your lag metrics. Second, give your team real-time scoreboards that show your lead metrics so you and they know what plays to run. Third, start setting goals. Set one to three company goals every year. These are your big lag metrics and a financial plan will help a lot with this," he said.
"[Lastly,] every quarter take a day and go offsite and do some strategic planning. Take a look at your annual goals and come up with one to three lead metrics you can move to get you closer to the annual goals. Incentivize the team to reach these goals. Doing planning like this every 90 days is a good way to chunk out achieving what you have in your annual plan. Then, if you're not already doing it, start holding weekly meetings with your team and review the metrics for the prior week."
To drive home the importance of data, Findlay borrowed a quote: "Things that are measured tend to improve."