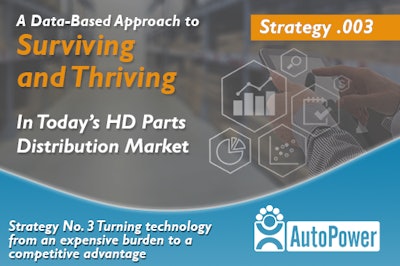 AutoPower has released the third in a series of strategy briefs outlining methods designed to help heavy-duty parts distributors who are combating supply chain disruptions, rising inflation and other headwinds in today's marketplace.
The company says Strategy Brief 3 focuses on how to access the infrastructure and technical skills required to support a data-driven approach to decision making and business growth.
AutoPower President Mike Mallory makes the case that a data-driven approach to business management is fast becoming essential to success in today's volatile economic and competitive market — but the systems that make it possible must be kept current, reliable and secure.
"Unfortunately, not many independent heavy-duty parts distributors and service organizations have the means to deploy and maintain the kind of complex IT infrastructure and support system required for a comprehensive data-driven distribution management system," Mallory says. "Nor do they have the technical expertise to keep critical applications updated and tuned for optimum performance or adequately protected from cyber threats that can catastrophically impact the business and its customers."
He explains Strategy Brief 3 details AutoPower's infrastructure as a Service (IAAS) model as a viable solution for organizations grappling with this dilemma. It enables distributors to outsource their IT infrastructure to IT experts who also know the heavy-duty parts industry so they can reduce overhead while more fully focusing their resources on the company's core mission of serving customers.
[RELATED: AutoPower debuts strategy brief addressing price controls in a time of rising inflation]
AutoPower says its model includes a secure Hosting Center, along with "evergreen" hardware and software maintenance services, all managed by IT experts to keep distributors firmly at the cutting edge, providing the most reliable data protection and fastest disaster recovery technologies available.
Hosting solutions are designed with failsafe business continuity and redundant data backup and protection processes in mind. AutoPower says experienced network engineering staff manages the hosting technology and infrastructure. Businesses of all sizes see a measurable impact immediately.
Other key features and capabilities include operating system updates, hardened internet communications, firewall management, and applications updates. The benefits for the business include increased uptime, improved business agility, and up to 50 percent reduction in capital costs and 80 percent in IT-related energy costs.