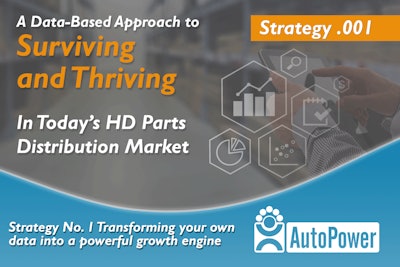 AutoPower has released the first in a series of strategy briefs outlining approaches companies can take to survive and thrive the current market conditions of rising inflation and supply-chain disruptions.
The document, titled "Transforming Your Own Data into a Powerful Growth Engine," details how AutoPowerBI Data Analytics Services can help distributors transition to data-based operations and decision making by leveraging the integrated applications and mountains of routine business data that reside in their AutoPower Distribution Management System (DMS).
The company says the brief explains how this strategy empowers organizations to better anticipate customer needs, detect competitor encroachment, improve inventory management, and much more.
[RELATED: AutoPower white paper offers strategies for surviving inflation, supply chain crisis]
AutoPower President Mike Mallory explains that, due to the complexity, rapid pace and evolving nature of today's heavy-duty truck parts aftermarket, distributors that still rely on outmoded business practices based on habit and intuition are finding themselves at a growing disadvantage competitively.
"This is especially true given the fact that so many distributors have already deployed, or are planning to deploy, data analytics as a key component of their business strategy," he says. "This industry, like all sectors of the economy, runs on data — with many processes and transactions occurring in real time. With the power tap into that vast store of data, and automatically sort and analyze it, companies can see things that would otherwise go unnoticed, respond more rapidly and effectively, and plan and compete more strategically."
Mallory makes the case that AutoPower's DMS, combined with AutoPowerBI Data Analytics Services, provides distributors a smooth and simple transition to data-based business management and decision making. It provides users valuable insights into the organization's internal operations, as well as customer needs and vendor performance.
These insights can dramatically improve business decisions and operations at both the tactical and strategic levels:
[RELATED: The answers to your toughest business challenges may be hidden in your own data]
At the tactical level, the system includes a built-in ARIA (Active Real-time Intelligence Alert) suite, which enables rapid response to real-time events and conditions via four types of alerts that are automatically directed to appropriate personnel. These include internal email alerts, credit-hold alerts, and DOT certification notices.
At the strategic level, data analytics services transform the huge volume of data accumulated within the company's AutoPower system into a powerful competitive advantage. It brings to life the vast details of data in the AutoPower System with live interactive dashboards and reports for specific business operational areas ranging from sales analysis and financial analysis to inventory analysis and shop services and more.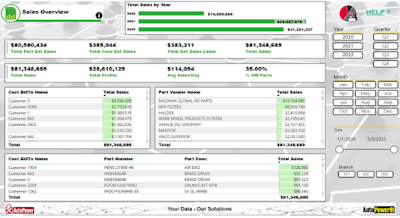 AutoPowerBI Business Analytics Services consist of:
Secure transfer of data to the AutoPowerBI service center
Authoring of various dashboards and reports
Continuous publishing of updated dashboards, reports and data refreshes
Display of dashboards and/or interactive reports for user's consumption.
Additionally, report analysis for specific business operational areas include:
Sales Analysis
Inventory Analysis
AR Analysis
AP Analysis
Financials Analysis
Shop Services, and more
Consulting and tips that help interpret results
Custom advanced reporting
The resulting business benefits from the improved data quality and unprecedented insight include everything from better inventory management to enhanced anticipation and response to customer needs.