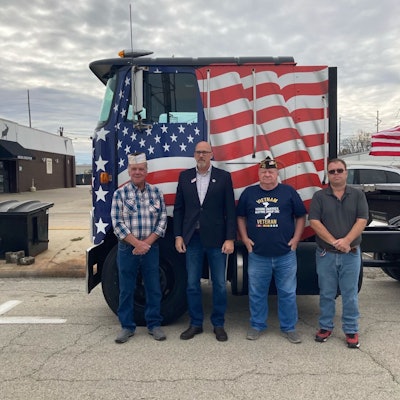 When Karmak CEO Jim Allen decided to buy a Class 8 truck in 2021, one thing he was excited to do with it was share the trucking experience in his community.
Over the last few months he's been doing just that.
Allen took ownership of his 1991 International 9670 cabover late last year and spent the winter maintaining and updating the unit. In late April, he had the truck wrapped with a patriotic exterior. An Air Force veteran, Allen said he wanted to use the truck to participate and support veterans organizations in and around St. Louis, where he lives.
[RELATED: Karmak CEO buys truck to identify new solutions to help truckers]
Which made this past Veterans Day a big one for Allen. On Nov. 11, the Karmak CEO brought his cabover, now dubbed the STL Freedom Truck, to the Litchfield, Ill., VFW where he served as keynote speaker for the facilities Veterans Day festivities.
"Thank you for your service, no matter what it looked like," Allen told the crowd. "Every veteran has a story. Make sure you tell yours."
Allen enjoyed the experience and intends to participate in similar events moving forward. He also plans to continue bringing his truck to events to raise awareness for Veterans organizations and first responders.
"Freedom Truck is available for any veteran organization that requests the truck for an event in the area. This truck is veteran owned and is dedicated to anyone that has ever worn a uniform in our beloved military," Allen writes on his Freedom Truck website. "The truck also honors our heroes in uniform that serve us in our communities and beyond. Freedom Truck is available to support any initiative that supports fire, police and medical personnel."