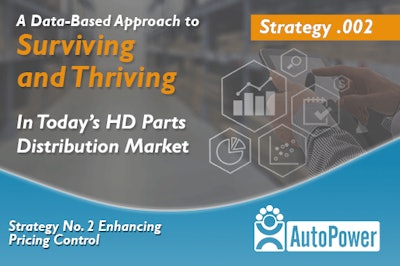 AutoPower has released the second in a series of four strategy briefs outlining approaches heavy-duty parts distributors can implement to overcome the current market conditions of rising inflation and supply-chain disruptions. Strategy Brief 2 specifically addresses price management.
AutoPower President Mike Mallory explains current market conditions create significant pricing challenges for distributors.
"Supply-chain problems are stretching delivery cycles by weeks and even months, and that makes it difficult to keep product prices ahead of rising inflation and, ultimately, to maintain profit margins," he says. "Given such conditions, organizations require a more automated, data-driven approach to price management."
[RELATED: AutoPower's new strategy brief to help survive inflation and the supply chain crisis]
According to Mallory, Strategy Brief 2 outlines the capabilities and business benefits of the powerful pricing module built into the AutoPower Distribution Management System (DMS). It uses a logical and flexible pricing matrix that defines 10 possible price levels to be assigned to a product line, line category, and sub-category — enabling it to handle complex and tailored pricing scenarios. The price creation process unites defined pricing rules, assigned rules for specific pricing actions and designated pricing controls. It incorporates an array of methods, including:
Contract Pricing – Set a specific product price (fixed price or percentage below or above a price level) for a date range.
Quantity Volume Price – Quantity purchase brackets can be established for a product with discounts derived from ascending quantity brackets.
Promotional Pricing – allowing unique discounted product pricing for a defined date range.
Velocity Pricing – A-B-C ranking of the inventory identifies the slow-no moving items. which can be specified to be sold at a discount or a higher price depending on its rarity.
Gross Margin Manager – providing control over aggressive price reductions to prevent gross margin erosion.
Additional methods include Product Pricing Updates, Price Field Percentage Updates, Price Field Matrix Updates, Unlimited Customer Pricing Matrix, Work Order Pricing Matrix, Line-Item Price Change, Price Change Watchdog Report, and Margin Alerts.
"The bottom line: The AutoPower Pricing Module allows users to adjust pricing to keep pace with rising costs and assures that up-to-date pricing is automatically reflected in promotions, quotes, sales orders and contracts," Mallory says. "This empowers distributors to maintain and even enhance profit margins, which is critical in the tough economic environment we're experiencing now."