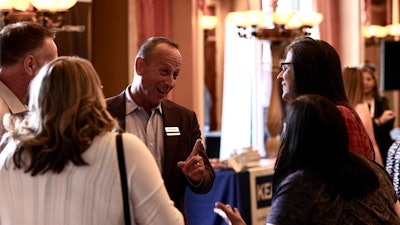 CDK Global Heavy Truck
What happened in Vegas won't stay in Vegas for CDK Global Heavy Truck.
Recently the company introduced CDK Truck Connect, a new multi-faceted learning and educational event in which CDK brought dealer customers, OEMs and third-party providers together to discuss their partnerships and the ways the commercial dealer industry can innovate and evolve to better support the trucking space.
Held April 18-20 in Las Vegas, Vice President and General Manager at CDK Global Heavy Truck Dave Carson says the first-time event pulled in nearly 200 attendees, well exceeding CDK's initial goals and showing the dealer channel is eager to discuss its future.
"For us, this was about getting multiple facets of the industry together to innovate and discuss how we can get better," he says. "We want to innovate with our customers and drive business forward."
[RELATED: CDK Global adds video calling platform for improved customer experience]
Carson says CDK Truck Connect's inaugural agenda gave attendees plenty of opportunities for engagement and discussion. The event featured keynote speakers and presentations from CDK leadership on the status of their operations and the industry, as well as 26 unique breakout sessions touching on a variety of issues relevant to dealer associates. Some topics were designed for dealer principals and executives, while others were more operational for dealer department heads. Carson says CDK's goal in creating the agenda was to ensure any dealer, OEM or third-party partner associate who attended would have multiple breakout sessions of interest.
Early response indicates that was the case, Carson says, "as initial feedback from dealer and OEM attendees has been very positive."
It's something CDK will attempt to replicate and improve upon in the future. "We do plan on doing it [again] going forward," Carson says, adding CDK believes there is real value to getting everyone into the same room to talk about what's going on in their businesses.
"We didn't make it an event where we tried to sell them something," he says. "The big thing we wanted to get across was 'We are listening.'"
He adds CDK will conduct a post-event survey in the coming weeks to drive that point home, with the results dictating how future events will be structured.
"The number one thing we need to do is listen to our attendees … We will need to deliver on the things that are important to them," Carson says. "We want them to know everything we're doing is built around them."