CDK Global Heavy Truck has released the results of its first ever "State of the Industry" survey of the North American commercial truck dealer space.
The inaugural survey, which was developed "to gauge where the heavy truck retail industry stands today and where it's going tomorrow," was completed by 134 dealers across the United States and Canada.
After three years of momentous market changes, CDK Senior Director of Research and Insights Peter Kahn says the company felt a survey was a great way for CDK "to hear from dealers about their biggest challenges from the past year, how they responded, what worked, what didn't, and how they will position themselves for another uncertain year."
He adds, "We created the survey to provide insight for heavy truck decision-makers as to how their dealer-peers are reacting to change, operational and financial strategies, and preparing for the future. Additionally, the insights can be used by heavy truck OEMs to better support their franchise network. Lastly, technology providers can use these insights to help dealers overcome challenges and position them for success."
[RELATED: New CDK Truck Connect event valuable, collaborative experience for all]
The survey's results have been expectedly illuminating.
Nearly two-thirds of respondents (64%) ranked staffing shortages as the biggest challenge currently facing their business, well ahead of parts availability (51%), fuel price volatility (39%), new inventory supply (38%) and inflation and recessionary concerns (38%) — the latter four of which all having earned more headlines in the trucking space over the past year.
Perhaps even more interesting is how dealers are responding to those challenges.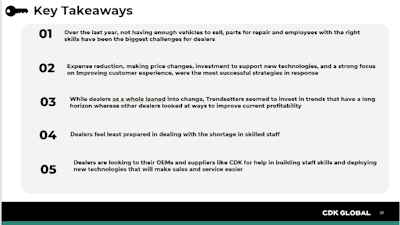 While changes to hiring practices have been prioritized by 46% percent of "trendsetters" — which CDK defined as dealers who self-identified as early adopters of new business approaches — updating recruitment hasn't been the most common response to current market issues. The most common response to all issues facing dealers is altering price. CDK's survey indicates 61% of trendsetters and 75% of status quo dealers have changed their pricing recently.
The discrepancy between those numbers tracked with insights found in other areas of the survey as well. Kahn states one of CDK's key takeaways from the survey was what while dealers as a whole have leaned into change, trendsetters seemed more likely to invest in trends that have a longer horizon than status quo dealers, who were more focused on improving current profitability.
[RELATED: What fleets are saying about remote diagnostics]
Another takeaway was the dealer channel's increasing acceptance and reliance on technology to improve efficiency, profitability and customer experience. Nearly two-thirds (63%) of responders said they intend to provide training to support the adoption of new technologies at their dealerships in 2023, while 60% hope to simplify sales and service processes to reduce friction points.
Kahn says CDK Global looks forward to repeating the survey in 2024 as it continues to seek out valuable insights into the dealer channel.
To learn more about the survey and download a copy of the results, please go to the bottom of the CDK Truck Connect website.