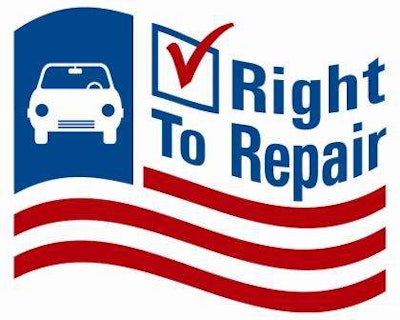 With most of the nation distracted by the still undecided presidential race, it would have been easy to miss the big win earned by the independent aftermarket in Tuesday's general elections.
The victory occurred in Massachusetts, where a ballot initiative known as Question 1 was passed by an overwhelming 75 to 25 percent margin. Also known as the "Right to Repair" Vehicle Data Assessment Requirement Initiative, Question 1 was pushed onto the ballot by the Auto Care Association and Commercial Vehicle Solutions Network (CVSN) and sought to eliminate an oversight in Massachusetts' "Right to Repair" law.
Signed in 2013, the commonwealth's "Right to Repair" law was the first of its kind in the United States, and mandated all automotive and commercial vehicle manufacturers provide affordable access to all tools, software and information used to repair late model computer controlled vehicles. The law was a benchmark win in the aftermarket's access to technical information movement, and eventually led to national Memorandums of Understanding (MOU) in both the automotive and heavy-duty truck markets.
But valuable as those national MOUs were, both failed to account for access to vehicle telematics, which are becoming increasingly essential for completing vehicle service as equipment becomes increasingly complex. And after attempts to update the mutually agreed to but legally non-binding MOUs stalled with the OEM community, the aftermarket returned to the voters of Massachusetts to pick up another substantial victory.
According to the Massachusetts' ballot, Question 1 will require vehicle owners and independent repair facilities be provided with expanded access to mechanical data related to vehicle maintenance and repair.
The ballot measure states: "Starting with model year 2022, the proposed law would require manufacturers of motor vehicles sold in Massachusetts to equip any such vehicles that use telematics systems — systems that collect and wirelessly transmit mechanical data to a remote server — with a standardized open access data platform. Owners of motor vehicles with telematics systems would get access to mechanical data through a mobile device application. With vehicle owner authorization, independent repair facilities (those not affiliated with a manufacturer) and independent dealerships would be able to retrieve mechanical data from, and send commands to, the vehicle for repair, maintenance, and diagnostic testing."
Representatives from Auto Care and CVSN were expectedly thrilled with Tuesday's results.
"CVSN is grateful at the successful partnership we have with Auto Care on solving unfair competitive issues in the aftermarket," says Marc Karon, president, Total Truck Parts, and chairman of the CVSN-led Commercial Vehicle Right to Repair Coalition. "What will happen next depends on what the Massachusetts legislature.  The referendum showed an overwhelming amount of support for making telematics available to everyone."
Aaron Lowe, Auto Care senior vice president, Regulatory and Government Affairs, says he hopes the OEM community is quick to act on Question 1 and accept the will of the public.
"We hope they will listen to what the voters have said and implement the Question 1 requirements," he says. "One would think that a 75 percent to 25 percent win after they spent nearly $30 million would be sufficient to get them to understand what their customers want, but it remains to be seen what their reaction will be."
In 2013, OEMs chose negotiation rather than facing state-by-state ballot challenges from the independent aftermarket. Karon says he isn't sure if they'll do the same this year.
"Whether we go to additional states will depend on how the OEMs choose to comply with the Massachusetts law," he says. "In the case of the Right to Repair law passed in 2013, the OEMs decided that having different approaches for different states was too expensive and hard to implement, so a Memorandum of Understanding was negotiated for all of North America."
He adds, "My hope is that they will seek a negotiated MOU."
Lowe says the independent aftermarket is ready for discussions.
"We are ready and willing to work with the manufacturers to ensure that car owners and their authorized repair shop will have the ability to securely access the mechanical data that is being transmitted by their vehicle," he says. "There are technical standards in place that can make this happen, and we have offered to provide the manufacturers any technical assistance they need to comply with the ballot question. "