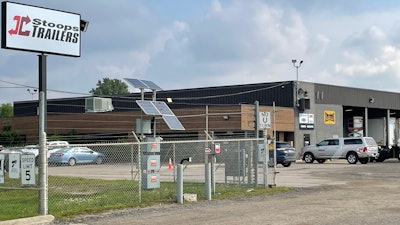 Stoops Trailers does a lot of things well, but no aspect of its success may be as impressive as its commitment to business improvement. Perfection in business might not be attainable, but that doesn't stop the company from trying.
With change management teams in place at all of its locations and a top-down corporate focus on bolstering operational effectiveness in every department, every day, Stoops Trailers shines as a dealership that never misses a chance to get better.
It is a promise that enables the company to maintain high levels of customer service across its wide network, and it's also helped the business this year be named one of five finalists for the inaugural Trailblazer Award, powered by Successful Dealer.
"I think one thing that helps us deliver on our customer service expectations is how diligent and disciplined we are about our standard operating procedures," says Mark Hall, general manager of company's trailer division. "We are constantly evaluating what we do and making sure our strategies are effective in our markets … . We understand business is always changing and we have to be open to change to remain successful."
And Stoops Trailers has changed quite a bit over the years. The business was founded by Jeff Stoops as a trailer dealer business in 1987 in Indianapolis. Stoops grew the business fast, adding Freightliner trucks and locations across the Midwest before selling the company to McCoy Group in 2014.
Today, Stoops Freightliner-Quality Trailer and Stoops Trailers are two of three retail brands within the McCoy Group, along with Truck Country. The company has three trailer-exclusive locations — Indianapolis and Lafayette, Ind., and Wayne, Mich. — and 26 total stores.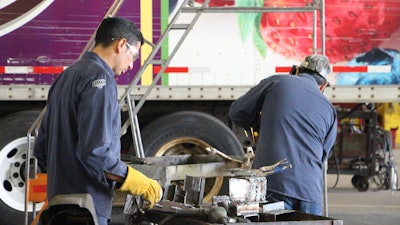 Maintaining a dealer network that large is no easy task, which is why Hall says the company invests so much time and resources into maximizing business operations and continuous improvement. McCoy Group's trailer business has thousands of unique customers; providing fantastic customer service to each requires good planning, smart marketing and a workforce expertly trained to impress.
The company's change management teams are the just one of the ways the business remains on top. Hall says each location has a team, and teams feature not just store or corporate management, but also regularly rotate in associates from all departments so discussions around possible business improvements include input from everyone in the facility.
"We know everyone in a dealership has a different perspective and faces different hurdles in their work," Hall says.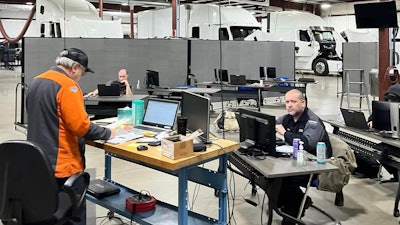 The company receives insight in other ways, too. Hall says each store has an onboarding coordinator who answers new hires' questions and helps them assimilate into operations. Hall says this helps ensure employees can hit the ground running in their new roles and seamlessly understand the company's customer-centric culture.
Additionally, regular 90-day reviews between associates and their superiors ensures associates always have opportunities to share their thoughts and ideas on how the business can evolve to be even stronger.
"These reviews are not only us reviewing the employee, it's also the employee reviewing us," Hall says. "It gives them the opportunity to say what could be better."
But maybe the strongest tool in the company's arsenal of continuous improvement is its technician training program. Hall says McCoy Group has created its own internal technical school with a comprehensive three-year curriculum to bring new technician talent into the operation. The program is truck-centric, but trailer and parts programs are in development.
And unlike other dealer training programs, which often exist to supplement a vocational school education or serve as a resource for new product training, McCoy Group's program can take students directly out of high school with no prior technician training and mold them into a technician with the ideal skills to succeed in the company.
"We're able to help give them the skills they don't realize they have," Hall says.
The company keeps up on what's happening in the trailer industry outside of its business as well. Hall is chairman of the board for the National Trailer Dealers Association (NTDA) and has served on the board for six of the last seven years. He and other corporate leaders are involved in other state and national trade associations as well, which helps the business "get a broader spectrum of what's happening in our industry."
Finally, there's the company's corporate outreach. Hall says the business conducts up to 20 customer cookouts per week in the summer, where company leadership and front-line employees together network with customers and keep up on their operations.
Together, all of these initiatives ensure customers who do business with Stoops Trailer never need to go anywhere else.
"Our philosophy on the trailer side has always been, the more departments we can have that touch a customer regularly, the harder it is for them to not buy from us," Hall says.
The Trailblazer Award was created in 2023 recognize and honor North America's trailer dealer community for their essential support of the transportation industry. The Trailblazer Award is graciously sponsored by Hendrickson and Procede Software. To learn more about the program, go the award page.