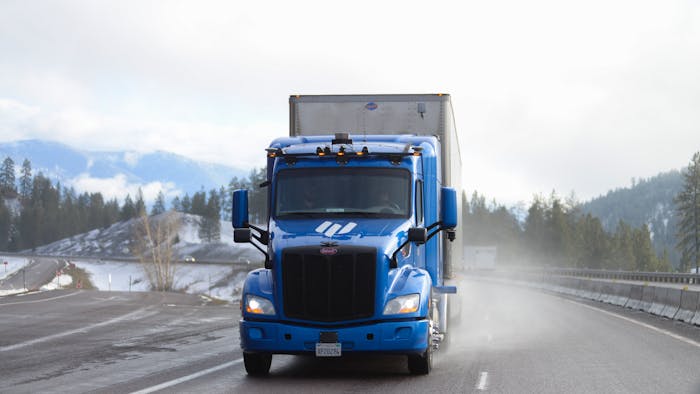 Embark Trucks announced Monday the successful completion of on-road testing in snowy conditions in Montana, which was conducted to demonstrate the performance and safety of Embark's Vision Map Fusion (VMF) technology in geographies that experience severe winter weather.
Results from the testing demonstrate that in approximately 90 percent of runs through the snowy conditions under study — which could result in delays for HD map-based autonomous driving systems — VMF should operate successfully, or pause and resume travel within acceptable shipper delivery windows.
Beginning in February, the company's testing in Montana utilized Embark-powered trucks traveling on a 60-mile round trip route on public roads between Clinton and Missoula in varying winter weather situations. In addition to on-road testing, Embark developed a comprehensive weather model using over 8 billion historical weather data points — dating back more than 10 years on all major U.S. routes — to analyze the impact of snow at a lane level across the US.
The testing and weather analysis showed significant technical and commercial promise, the company said. Embark's testing and performance review indicated that VMF worked within tolerance thresholds for safe operation in snowfall rates up to one-sixth inches per hour and with snow accumulation of one inch on the road over three hours, conditions that cover the vast majority of snowy weather based on Embark's analysis.
The test results represent a milestone in the development of autonomous trucking technology, Embark said, as well as a major achievement for the company made possible with VMF. Embark plans to continue to study the impact of snowy conditions on other elements of the Embark Driver.
Combining these performance results with historical weather patterns and typical shipper delivery timelines, Embark was able to estimate expected delivery performance. On northern lanes -- those starting or ending outside of the Sunbelt -- historical data shows that roughly one in five runs will experience some snowy conditions. Embark estimates its VMF system will operate within acceptable shipper delivery windows approximately 90 percent of the time on such runs.
Embark said it will look to refine the initial findings in time through additional modeling and partner insights in order to account for associated considerations such as ice formation, sleet and heavy winds.