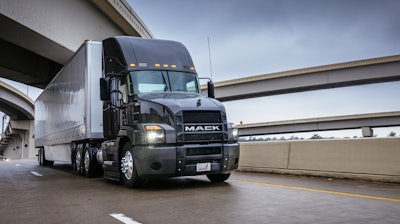 The American Truck Dealers (ATD) announced Thursday support for the "Modern, Clean, and Safe Trucks Act of 2023," a bill reintroduced in both chambers of Congress Wednesday that would repeal the Federal Excise Tax (FET) on medium- and heavy-duty trucks.
ATD has been fighting for the repeal of FET for many years and believes the 100-year-old tax is slowing the pace of new technical advancements in the transportation industry. The "Modern, Clean, and Safe Trucks Act of 2023" was introduced by Sens. Todd Young (R-Ind.) and Ben Cardin (D-Md.) in the Senate. Reps. Doug LaMalfa (R-Calif.) and Chris Pappas (D-N.H.) led reintroduction in the House with Reps. Earl Blumenauer (D-Ore.) and Darin LaHood (R-Ill.) also joining as original cosponsors.
ATD writes FET is "a major disincentive for trucking fleets to modernize their equipment with new, low-emission vehicles." Despite regulatory pressures by the federal government to greatly increase the sales of electric or zero-emission trucks, ATD says FET can add more than $50,000 to the price of new vehicles. This means older trucks stay on the road much longer, ATD states.
"Nearly half of America's trucking fleet is over 10 years old," says Scott McCandless, chairman of ATD and president of McCandless Truck Center. "Repealing the FET will be a giant step toward achieving our national goal of turning over America's aging truck fleet."
ATD has support in its efforts to repeal the tax as well. On Feb. 22, ATD along with the American Trucking Associations and Zero Emission Transportation Association (ZETA) sent a letter to Capitol Hill urging lawmakers to consider dumping the tax.
"America's truck dealers commend Sens. Young and Cardin, and Reps. LaMalfa, Pappas, Blumenauer and LaHood for their bipartisan leadership on this legislation," says Laura Perrotta, president of ATD. "Lawmakers must make repealing the FET a priority so family-owned trucking businesses can continue to invest in the newest, cleanest and safest advanced trucks available."