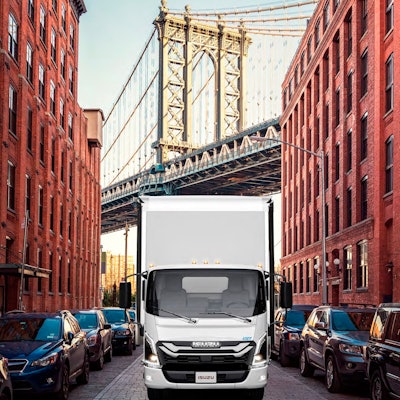 Isuzu Commercial Truck of America debuted its first all-electric production model, the N-Series EV, Wednesday during Work Truck Week in Indianapolis.
Set to be available in the first half of 2024, Isuzu says the 2025-model-year Class 5 truck features a 19,500-pound gross vehicle weight rating, all-new cab design and battery electric platform developed by Isuzu Motors Limited.
"The N-Series EV is a game-changer, not only for us, but for our dealers and our customers," says Shaun C. Skinner, president, Isuzu Commercial Truck of America and Isuzu Commercial Truck of Canada. "We have always prided ourselves on offering a variety of powertrains to meet the needs of our owners.
"As we look at the regulatory landscape ahead of us, we know that the demand for a medium-duty truck powered by electricity is going to increase dramatically. And we will be ready, with the first electric production Class 5 low cab forward truck in the U.S. and Canadian marketplace."
Isuzu says the N-Series EV also was introduced this week in Japan and will be available there at the same time. This marks the first time that a new Isuzu model has been introduced simultaneously in three markets Japan, The United States, and Canada. Isuzu says the truck is scheduled to be assembled in the United States for sale in the U.S. and Canadian markets.
[RELATED: Mack introduces all-electric medium-duty model during Work Truck Week]
Every N-Series EV will be powered by a number of 20-kilowatt-hour, lithium-ion battery packs. Customers will be able to choose from three-, five-, seven-, and nine-battery-pack models. All else being equal, the more battery packs, the longer the driving range. By offering four configurations, Isuzu will allow buyers to choose the combination that's best for their business, the company says.
For ease of charging, Isuzu adds all N-Series EV models will be equipped with charging ports that accommodate the most popular charging connectors in the U.S. and Canada: DC charging (CCS1) and AC charging (J1772). To accommodate their multiple battery packs and to provide reasonable charging times, N-Series EV trucks, with battery capacities of 60, 100, 140, and 180 kWh, will have an AC Level 2 charging time range from 5.5 to 10 hours and a DC Fast Charging time range from 1 to 2.5 hours.
The company does note all figures are calculated estimates, based on a fully charged battery, and for comparison purposes only.
[RELATED: Hino rolls out fully electric M- and L-Series trucks]
"Battery capacity decreases with time and use," says Skinner. "A truck's actual range will vary based on a number of factors, including number of battery packs, vehicle options, driving conditions and habits, vehicle and battery's condition and outside temperature."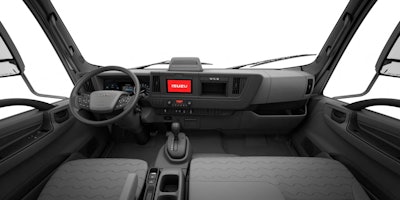 Regarding the updated cab, Isuzu says the 2025 N-Series EV will feature a redesigned cab with revised exterior styling and an all-new interior. It will be the first truck to feature Isuzu's global "Cross Flow" design language that will eventually be applied to all Isuzu trucks in the U.S. and Canada markets. Additionally, all N-Series EV models will offer three-across seating. Seats will feature new urethane cushions and upholstery. The driver's seat back will be 30 millimeters higher than prior N-Series seats to accommodate taller drivers, and both driver and outboard passenger's hip points have been lowered 10 millimeters for a better seating position.
Finally, the company says the new N-Series EV will take driver assistance, convenience and peace of mind to new levels with the revised Advance Driver Assistance System package. This optional suite of features includes Automatic Emergency Braking and Lane Departure Warning Systems, which are part of the current N-Series diesel ADAS package. Full-Range Adaptive Cruise Control ("ACC") improves on the current ACC feature with its ability to bring the truck to a complete stop and then return it to its originally set speed once the driver depresses the accelerator again, the company says.
"With the addition of the NRR EV to our lineup, Isuzu will offer the most diverse range of engines and fuel sources in our history," Skinner says. "By giving our customers a choice of power, we are giving them the power of choice."