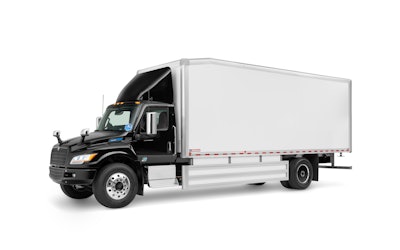 Morgan Truck Body revealed three new vehicle bodies at Work Truck Week in Indianapolis.
A full-height, walk-through parcel van (PVW) body is built on an EV chassis by Pritchard Commercial and provides a solution for final-mile delivery fleets. It provides easy access from the cab to the cargo area with a full-height sliding door, a translucent mid-panel roof that allows in light while preventing heat transfer, structural composite wall materials and isolated shelving mounts, specialized rear and side doors and a low-height step-up, a remote control roll-up rear door, folding shelving and an easy-close folding shelving option, and enhanced safety and visibility.
[RELATED: Spec'ing EV chassis 'completely different' than diesel]
"Our approach to innovation is to consider what the customer needs and then apply the technology and engineering to bring solution-driven designs to fruition," says Tom Diez, Morgan's senior vice president of sales and marketing.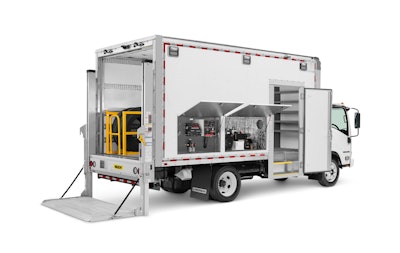 The next truck is a roadside assistance vehicle, or RAV, that is built on an Isuzu NPR-HD, gas-powered chassis. It features a mobile workshop with a curbside step door; packages for oil, lube, cooling fluid, air, parts, welding and diagnostic testing; a mobile workbench with an aluminum structure and a stainless steel top; part and tool storage with fixed shelving; dimmable LED strobe lights and scene lights for a bright work area at night; and enhanced safety with improved visibility.
"We see a significant customer shift in demand away from brick-and-mortar repair centers towards flexible mobile units to repair on site, which saves time and cost," Diez says. "Morgan Mobile Service Units answer that demand and can be custom designed for a wide variety of fleet on-site maintenance, inspection and repair needs, with the goal of getting drivers back on the road quickly and safely."
Lastly, the NEO features Navistar's International eMV Series chassis and represents the next step in Morgan's product evolution to achieve extended range, improved aerodynamics and a lighter-weight freight body.
"During development of the NEO POC body, we worked from the ground up by designing new structural profiles, refining materials and enhancing construction and mounting methods," says interim Morgan President and COO Corby Stover, also the vice president of engineering. "We appreciated collaborating with Navistar to integrate their high-performance electrical chassis on this exciting concept vehicle. Our goal is to improve our customer experience by gaining valuable feedback about NEO so we can incorporate features customers want and need into our evolving designs."
The NEO is 24 feet long and is nearly 40% lighter than a standard body. It also features improved aerodynamics for an extended range, ergonomic enhancements, improved safety with a lateral protection device for easy under-vehicle access and aerodynamic side skirts, a powered rear overhead door with an active remote control and automated passive entry and exit system, a camera and sensors for improved safety, and more.
"Collaborating with innovative partners like Morgan Truck Body aligns with our efforts to accelerate the impact of sustainable mobility," says Debbie Shust, vice president of medium duty business, Navistar. "The thoughtful integration of form and function in the NEO POC body is the right step toward improving the overall customer experience and considering the vehicle's entire ecosystem."