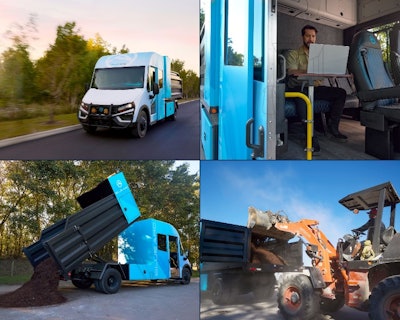 The Shyft Group has revealed its latest innovation: an all-electric Class 5 Crew Cab. The announcement was made Wednesday at Work Truck Week in Indianapolis.
"It's about flexibility, innovation and creating unique solutions for our customers," says Daryl Adams, president and CEO, The Shyft Group. "The new Blue Arc Class 5 All Electric Crew Cab is truly in a class of its own. Never before have you seen a cab like this on a work truck, and customers are asking for it."
Using Shyft's Work Driven Design process, the company says the all-electric vehicle is optimized for crews with a walk-in-van style cab that features a sliding door and weather-protected steps for safe curbside entrance and exit. The spacious interior at 85 inches high and 88.5 inches wide allows crews to walk up into the cab, stand or sit comfortably, and set up a mobile workstation that allows team members to stay plugged in throughout the day.
"Not only is the Crew Cab EV designed explicitly for crew comfort, safety and productivity, but this unique and highly flexible cab chassis allows for a variety of bodies for stake trucks, box trucks, dump trucks and more," says Adams. "The applications are endless from landscaping to moving vans to power companies and others. This innovative truck brings new markets to Shyft and helps accelerate the transformation to EVs across our country."
[RELATED: Shyft Group earns EPA certification for electric delivery van line]
Using Blue Arc's proprietary, modular Class 5 commercial-grade EV chassis, Shyft Group says the truck is built to handle the payloads and go the distance in end uses such as construction, trades, municipalities, snow removal and landscaping.
The company adds EV work truck features lithium-ion liquid-cooled battery packs and an optional 450-watt-hour integrated solar roof package. It is optimized for Level 2 and DC fast charging with an accelerated charge time of 2-6 hours and a 200-plus mile range. Blue Arc plans to integrate the latest in proven vehicle and driver safety technology such as 360° cameras with 12-inch in-dash HD displays, front parking sensor and blind spot detection, tire pressure monitoring, weather-protected steps, and keyless and automated entry, the company adds.
The Class 5 EV chassis will also be available in strip chassis and cowl chassis in the near future to electrify buses, shuttles, motorcoaches and other vehicles making a transition to all-electric.